Blaze in beetle kill forest near Winter Park ski area has firefighters leery of dead trees
Grand County wildfire burning in worst-hit area of ongoing pine beetle epidemic
Another wildfire burning in Colorado's high country has raised the alarm over how crispy and dry the recent fall weather has been, and rekindled the debate about climate change and the ongoing pine beetle epidemic.
According to
9News.com
, a 450-acre wildfire in the Sheep Mountain area of Grand County near the town of Fraser is not immediately threatening any homes Monday morning but also is 0-percent contained despite the efforts of air tankers Sunday.
The
Denver Post reported
Grand County officials said the "Church's Park Fire" — up to about 530 acres by noon — was "human-caused," although they offered no additional information.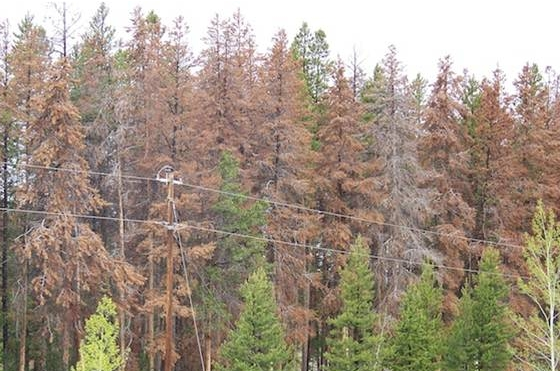 Grand County has been perhaps the hardest hit area in the state in the decade-old pine beetle outbreak that has killed more than 2 million acres of lodgepole pines in Colorado and Wyoming. Scientists say warmer temperatures have contributed to the beetle outbreak, and Forest Service officials told 9News all that dead timber makes fighting this fire more difficult.
"We have got a lot of dead trees up there," Forest Service official John Bustos told 9News. "Those are a threat not only with a fire that could move through them but you know our fire crews have to fight in those trees and they could fall down at any time."
During last month's Fourmile Canyon wildfire west of Boulder – the costliest in state history in terms of property damage (166 homes destroyed) – environmentalists and some politicians made the case that climate
change will continue to make Colorado more susceptible to wildfire
.
In the Grand County fire, a youth camp was evacuated Sunday, and a reverse 911 call went out homes and properties in the vicinity of County Road 50, which was closed to the public. A "prepare to evacuate" warning was issued to some homeowners in the area of the Pole Creek golf course and the YMCA Snow Mountain Ranch.
Also, the Church of the Eternal Hills received the same call. Its pastor sent out an email Sunday saying "… firefighters are feeling good, but not out of the woods yet."
The fire is burning west of U.S. Highway 40, the main road between Winter Park ski area — which is only about 10 miles from the fire zone — and Steamboat ski area, which is much farther to the northwest in Routt County.
Firefighters Monday said lower temperatures, less wind and increasing humidity should help keep the fire down.
---

569 Comments on "Blaze in beetle kill forest near Winter Park ski area has firefighters leery of dead trees"