Lech-Zürs, Arlberg region of Austria added to Vail Resorts Epic Pass
Real Vail revisits legendary birthplace of alpine skiing
If you're a Colorado resident who's been dreaming about a European ski vacation for years but afraid to pull the trigger because of the staggering costs of airfare and lodging, the lift tickets at least just got a lot easier to deal with. And for that matter the destinations.
Vail Resorts on Tuesday added yet another group of ski resorts to its $689 adult Epic Pass – a season pass that includes unlimited snow riding at arguably the best Colorado ski areas and now five free (but consecutive) days in the legendary Arlberg region of Austria. Literally the birthplace of modern alpine skiing, the Arlberg is home to the renowned ski areas of St. Anton, Lech-Zürs, St. Christoph and Stuben.
The Epic Pass also offers skiing at Verbier, Switzerland, and now includes 15 ski mountains in three countries. Here's the total rundown: Vail, Beaver Creek, Breckenridge, Keystone, Arapahoe Basin and Eldora in Colorado, and Heavenly, Northstar and Kirkwood in Lake Tahoe. Click
here
for more information or to purchase an Epic Pass.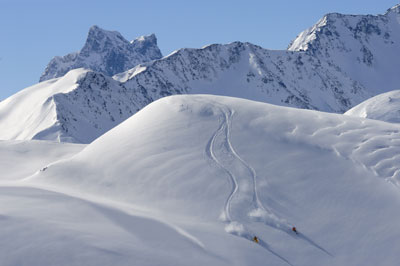 The Arlberg consists of 174 miles of marked ski runs, 112 miles of open free riding terrain, 94 gondolas and lifts, and approximately 23 feet of annual snowfall.
For more information about the European ski experience, check out this Real Vail article from 2007 comparing the Alps to the Rockies.
And here's a complete re-post of a 2007 article about Beaver Creek's sister resort, Lech-Zürs:
Kissing your sister: Beaver Creek enjoys love-fest with Austrian resort of Lech-Zürs
LECH-ZÜRS, Austria (Nov. 2, 2007) -- The first real sign you're not in Colorado anymore -- and there are lots of little indicators such as self-sanitizing robo-commodes, smoke-choked après bars and conveyor belt-loaded chairlifts -- is the early 14th-century "pfarrkirche," or parish church, that extends its onion-shaped dome up into the alpine sky high above this half-timbered hamlet in the Arlberg region of Austria.
Not even the Ute Indians were running around the Colorado Rockies in the 14th century. Beaver Creek wouldn't be a twinkle in anyone's eyes for another six centuries or so. And the sport of alpine skiing as we know it today didn't exist in either place. So in some ways it's a strange sisterhood that was formed in 2001 between the mountain resorts of Beaver Creek and Lech-Zürs am Arlberg.
Beaver Creek was the last major ski resort built in Colorado, belatedly opening in December of 1980 as an originally proposed venue for the 1976 Winter Olympics, which Denver voters rejected and were ultimately held in, of all places, Austria. Lech rival Innsbruck, to be precise.
Beaver Creek's magnificent stone chapel is a marvel, named by Brides Magazine among the most popular wedding venues in the nation, but its birth in 1987 makes it an architectural baby by Lech standards, where the ornate pfarrkirche is ringed by the graves of prominent citizens dating back centuries.
And while Beaver Creek arguably originated in North America the concept of the ultra-luxe, self contained alpine resort, Lech-Zürs can legitimately lay claim to being the birthplace of alpine skiing itself. Ski pioneer Viktor Sohm first offered instruction to locals in 1906 (the world's first ski school), and in 1937 the first ski lift in Austria was built at Zürs, a smaller, more exclusive village adjacent to Lech.
On closer examination, though, there are more deeply ingrained similarities between Lech-Zürs and Beaver Creek than differences, beginning with the people who call both high-altitude destinations home. Something in the thin, crisp mountain air instills a friendliness -- a spirit of "willkommen," if you will -- that delivers an unparalleled level of service in both mountainous playgrounds.
The people who live, work and play in both areas are driven by a sense of alpine adventure, a passion for the mountain lifestyle and a genuine love of sharing that zeal with guests from less vertically uplifted parts of the world. The measured yet genuine hospitality of the Austrian resort worker is immediately apparent, from the precise time the taxi driver greets the train in Langen to the waiter at the luxurious yet charming Alpenhotel Valluga in Zürs who knows his guests by surname and dietary preference after just one evening on property.
"The passion for the mountains is something that we really share," Peter Burger, owner of the Berghof Hotel in Lech, says of the ties that bind both Beaver Creek and Lech-Zürs residents. Viewed through the prism of the people and their passion, the Beaver Creek and Lech-Zürs sister-resort relationship makes infinite sense.
Lech and Zürs are but two constellations in a galaxy of snow-sliding options in the winter and a vast, rolling hiker's paradise of Tyrolean tundra in the summer. Beaver Creek is fairly big by American ski-resort standards, but Austria's Arlberg region, which also includes the resorts of Stuben, St. Anton and St. Christoph, is a sprawling expanse of 85 ski lifts, 180 miles of established ski trails and another 110 miles of off-piste descents.
The Arlberg's overall skiing altitude of between 4,750 and 9,200 feet above sea level pales in comparison to Beaver Creek's stratospheric elevations of between 8,100 and 11,440 feet, but the much younger Alps are far more sheer and dramatic, rising in stunning and mostly treeless relief to wall in the high, pastoral valleys. Little wonder Lech was awarded "Most Beautiful Village in Europe" in 2004.
Home to the world-famous and first of its kind Ski Club Arlberg, the area has raised no less than four Olympic alpine skiing champions and is a towering testament to ski technique, having produced the father of modern skiing, Hannes Schneider, who developed the unified Arlberg Method of ski instruction. Skiing is king in the Arlberg, much as it defines the character of Beaver Creek, but it is far from all there is to the region.
Nate Goldberg, head of Nordic skiing and director of the Beaver Creek Hiking Center in the summertime, regularly leads trekking trips to Lech-Zürs in the late summer, attracting outdoor enthusiasts, to be certain, but also those enamored with the Austrian Alps' rich history, generations-old culture of hospitality, and borderline obsession with good food and drink.
"When you hike in Colorado you're talking about sheer beauty and wilderness, but when you hike in Austria it's beautiful and wild but it is civilized in the sense that when you get to your destination, you sit down to a wonderful meal," says Goldberg. "Another real plus is you don't get the altitude effects when you're hiking in the Alps, which makes a big difference for people coming up from sea level and hiking at 4,000 to 8,000 feet versus 8,000 to 12,000 feet."
The concept of intermingling alpinism (climbing and skiing high peaks) with the equally important Austrian pastime of wining and dining is something that has finally taken root in the States, as evidenced by the growing number of world class restaurants in and around Beaver Creek and exquisite on-mountain eateries such as Beano's Cabin and Zach's Cabin. But the Austrians have been honing the tradition for the better part of the last century.
Ludwig Kurz, director of community relations for Beaver Creek Resort Company, former mayor of Vail and a native of Salzburg, Austria, says his countrymen have tended to focus more on the aspects of skiing most Americans view as mere accessories -- spas, dining, après-ski -- out of necessity. Colorado's high, dry continental climate provides consistently better snow conditions than the more maritime weather of central Europe.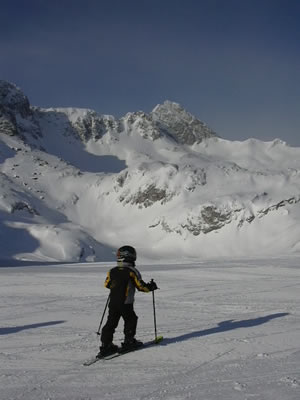 "One of the reasons Americans are so concerned with ski, ski, ski and making more turns is that very often we have better conditions. In Europe, the conditions aren't always as good, so they've taken a more broad and holistic approach to the sport," says Kurz, who leads a ski trip to Lech-Zürs each season.
"Our grooming at Beaver Creek is usually perfect, but it is more difficult to do such a thing in the Arlberg where the terrain has more narrow ravines and gullies. Going off-piste in Austria can be downright dangerous, especially if the visibility is poor," adds Kurz.
And for that reason, guides in the Arlberg, where much of the skiing is in open, timber-free terrain, are more than merely advisable -- they are a virtual necessity. Lack of visibility and hidden dangers aren't the only concern. The vastness and endlessly interconnected nature of the ski resorts can have disastrous consequences for the uninitiated.
This is particularly true of "Der Weisse Ring," or the White Ring, ski interconnect between Lech, the car-free village of Oberlech, Zürs and Zug, which consists of 14 miles of mostly intermediate trails. It is fairly benign in clear weather, but can be quite daunting in overcast or snowy conditions. When the skies are clear, though, take the tour and stop at an outdoor, mountaintop bar or restaurant along the way. It's an Austrian tradition.
The origins of the sister-resort relationship were almost accidental, first percolating in St. Anton, Austria, in February of 2001 when a contingent from Beaver Creek attended the World Alpine Ski Championships—a highly prestigious racing event Vail-Beaver Creek has hosted twice.
Kurz took the group on a side trip to Lech-Zürs and they all fell instantly in love with the former farming towns that have assiduously maintained their quaint character. Serious about their motto of "More time, more space," Lech-Zürs defies all the stereotypes of the European ski experience, offering uncrowded slopes, unfettered friendliness and a soothing sense of civility.
And in much the same way that Beaver Creek has closely guarded its surrounding environs to protect its quality of life, Lech-Zürs has taken steps to limit traffic, control the type and amount of development and improve air quality through its 12-year-old biomass power plant, which has reduced emissions by up to 70 percent. Quaint, yes. Stuck in the past, hardly. The Beaver Creek contingent was in awe of the place, but it was the people who cemented the deal.
Thus began a series of cultural exchanges which includes an annual Oktoberfest visit to Beaver Creek in September by a Lech-Zürs contingent made up of various business owners, prominent citizens and public officials, many of whom play in the 45-member brass band called Trachtenkapelle Lech. The band also returns in late November and early December for the annual Birds of Prey World Cup ski races, in which the best men's ski racers in the world duel on North America's most daunting downhill course.
Then in April a large group from Beaver Creek travels to Lech-Zürs for an annual festival and two-day wine tasting during which the Beaver Creek Friendship Wine is selected, and throughout all of these events and several other culinary festivals, chefs and sommeliers from both resorts engage in active exchange programs that have resulted in a happy blending of alpine gastronomic customs.
Indeed, it is no wonder people want to emulate a European ski town feel in Beaver Creek and Vail. But what truly makes the Lech experience so incredible and so unique is the people.
If you go
Contact the Lech-Zürs Tourism Board by calling +43 (0) 5583 2161 – 0 or the Zürs office at +43 (0) 5583 2245 or email info@lech-zuers.at. On the Web, go to www.lech-zuers.at.
For more information about summer or winter excursions to Lech, hosted by Beaver Creek, go to www.beavercreek.snow.com.

---

38 Comments on "Lech-Zürs, Arlberg region of Austria added to Vail Resorts Epic Pass"