Major rock-blasting work starts on I-70 Twin Tunnels Project
Major rock-blasting and removal work to widen the eastbound tunnel bore of the Interstate 70 Twin Tunnels project near Idaho Springs started on Friday, with a host of federal, state and local dignitaries on hand to recognize the milestone.
"The major rock blasting marks the beginning of this critical transportation project that will improve safety and provide some travel savings, all of which we can enjoy by the end of the year," said Colorado Department of Transportation (CDOT) Executive Director Don Hunt.
"This is not only a significant milestone for CDOT, but for our transportation partners as well. We wouldn't be here today without the support from Idaho Springs, Clear Creek County and FHWA."
Widening the eastbound tunnel to accommodate three lanes of traffic involves first using large drilling equipment to create holes in the rock in which explosives can be packed for a controlled, localized blast that removes a targeted section of rock.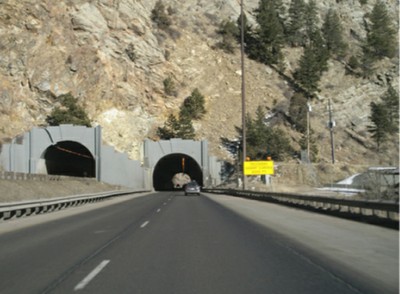 During each blast, I-70 traffic will be stopped in both directions prior to the tunnels for up to 20 minutes on eastbound I-70 and up to 30 minutes on westbound I-70, giving construction crews time to conduct the blast, clear any materials and inspect the westbound tunnel bore before allowing westbound I-70 traffic to proceed.
Traffic stops for eastbound travelers could be shorter as vehicles are directed onto the detour route around the tunnel following each blast.
Kraemer-Obayashi is the project contractor and is using two sets of drilling equipment to speed up the tunnel blasting and widening process. Eastbound I-70 traffic is expected to be moving through the new tunnel by the end of this year.
The $106 million Twin Tunnels Project is adding one eastbound lane from the east Idaho Springs interchange to U.S. 6, including expanding the eastbound tunnel to include three lanes, shoulders, improved lighting and a wider entrance to encourage eastbound drivers to continue driving into the tunnel without braking.
This is the first of several projects designed to improve safety and mobility along the I-70 mountain corridor. These projects are expected to collectively reduce roadway congestion, and improve travel times and safety by reducing accidents by an estimated 35 percent and saving Sunday travelers approximately $11.4 million in travel time and fuel costs in 2014.
The Twin Tunnels have been identified as a major choke point for skier traffic to and from I-70 resorts in Summit and Eagle counties, including Vail and Beaver Creek.
"I'm excited to see this project come to fruition through our partnership with CDOT," said Idaho Springs Mayor Jack Morgan. "These improvements will provide our residents, businesses, and visitors better access to all that Idaho Springs and other mountain communities have to offer."
For more project information including the blasting schedule, call 511, visit www.cotrip.org, text CDOT to 25827 or download the CDOT smartphone mobile application from your App store. You can also call the project hotline,
303-327-4034, or visit the project website at www.coloradodot.info/projects/i70twintunnels
---

270 Comments on "Major rock-blasting work starts on I-70 Twin Tunnels Project"