Vail Police Chief Henninger favors national assault weapons ban similar to Vail's
In the wake of mass shootings in Newtown and Aurora, Vail Police Chief Dwight Henninger this week told the
Vail Business Journal
he'd like to see a national ban on assault weapons like the one that's been in place in Vail since voters first approved it in 1995.
Henninger called the proliferation of military-style assault weapons and high-capacity magazines a 20-year issue that needs to be addressed now at the federal level.
"I don't know how to get [assault weapons] off the streets," he said. "I know we can control the ones that are new to the streets."
Henninger also supports tighter controls on gun purchases to limit access to weapons for mentally ill people.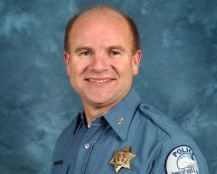 "Yes, we need to tighten up the systems that would allow individuals who shouldn't have weapons to have them," Henninger said. "We also have to recognize that there are an awful lot of weapons out there already that provide pretty much ready access to both criminals and folks with mental health issues."
A ban on new assault weapons would begin curtailing the supply in coming years, he said. That would also be beneficial in neighboring Mexico, Henninger says, pointing to the deluge of cheap U.S. guns south of the border.
"The straw purchasing, where you have your girlfriend go purchase a rifle and then the next day it's down in Mexico being shot at a police officer or military member, There's something wrong with our system that makes that possible," he said.
"It just shows the proliferation of weapons that we have here that it's that easy for them to be transported down to Mexico."
Henninger adds that other nations have had success banning semiautomatic rifles.
"Look at some of these other examples
like Australia
and it seems to have had a pretty significant effect pretty quickly," he said. That nation also implemented an aggressive buyback program after a massacre in Tasmania in 1996. There have been no mass shooting there since.
Since becoming police chief in 2004, Henninger says he can only recall
Vail's ban
being enacted once, in the case of a seasonal worker who had an assault weapon confiscated for safe keeping. There are no guns stores in Vail, so that's never been an issue, and there's never been a gun show in town either.
In 2009, Richard "Rossi" Moreau killed one man and wounded three others with a .45-caliber handgun at the Sandbar in West Vail. Henninger said Moreau has some assault weapons that would have been covered by the ban but not at the bar that night. He was convicted for first-degree murder and never charged with violating the town ordinance banning assault weapons.
"The reason that [the ordinance] probably hasn't been used much here is because there are much stiffer penalties for someone who illegally uses one of these weapons," Henninger said. "Otherwise, we don't really come in contact with [assault weapons]. But I think the town has taken an appropriate step to prohibit the sales here in town."
---

0 Comments on "Vail Police Chief Henninger favors national assault weapons ban similar to Vail's"
Be the first to comment below.