Vonn takes break from World Cup circuit to recover energy, strength
Says hiatus not related to ongoing depression
Vail's Lindsey Vonn is taking a break from ski racing, citing the need to recover some energy and strength after being hospitalized with an intestinal infection in Vail last month.
The second-best women's ski racer of all time with 57 World Cup wins has been struggling so far this season, even though she has won four races, including a super G at St. Moritz as recently as Dec. 8.
Vonn collapsed on the snow after a disappointing giant slalom finish in Aspen Thanksgiving weekend, then won three straight races at Lake Louise, Alberta, the following weekend. Since St. Moritz, however, Vonn has been very inconsistent, failing to finish races as Slovenia's Tina Maze has been on a tear.
Vonn, the defending overall champion, now sits fourth in this season's chase, a daunting 385 points behind Maze. Vonn's hunt for a fifth overall title now seems to be in serious jeopardy with the Ski and Snowboard Club Vail product planning to sit out at least the rest of the month.
"After talking with my family and consulting with my coaches and trainers, I have decided to take a break from the World Cup circuit," Vonn wrote on her Facebook page. "Since my intestinal infection last month, I have been struggling with my energy and strength. I believe that some time off the mountain will help me regain the physical strength that I require to compete at the level that I demand from myself."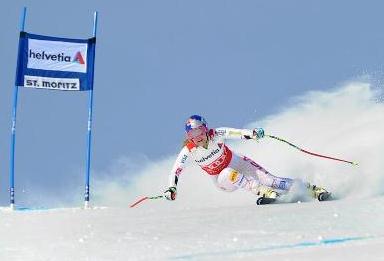 Vonn went on to explain that the hiatus has nothing to do with recent revelations in People Magazine that she has been depressed for years and takes anti-depressants.
"Everything about my life seemed so perfect to people," Vonn told People. "But I struggle like everyone else."
"I want to be emphatic that this [break from competition] has nothing to do with my recent interview with People Magazine," Vonn, 28, said on Facebook. "I had completed that interview weeks before I was in the hospital with the intestinal infection."
Vonn went on to thank her fans and sponsors, which includes Vail Resorts.
"I want to thank my sponsors for their continued support," Vonn said. "Most of all I want to thank my fans for all of the kind words and love you have shared with me. I wish all of you a happy and healthy holiday and look forward to getting back on the mountain in the New Year."
In other World Cup news involving Vail-area athletes, Eagle-Vail's Mikaela Shiffrin matched her best finish ever in GS on Sunday, coming in ninth in Courchevel, France, in a race that was won by Maze. Vonn skied out and did not finish the race.
"I knew it was a long shot to get into the top 10," Shiffrin said in a U.S. Ski Team release. "I was more psyched that I made it down and survived the first run. There were a few places where I thought I was going to die or give up. I was psyched to get a second run and thought it would be a walk in the park, so I wasn't worried about it."
Meanwhile, in Ruka, Finland, over the weekend, Vail's Heidi Kloser turned in her most successful dual moguls competition result to date, finishing seventh in an event won by Bozeman's Heather McPhie.
"The athletes started off a little nervous," U.S. moguls coach Garth Hager said in a release. "The first event is always a challenge to know how everyone is going to compete and how their off season training has paid off. A clean slate might be an advantage but anything goes in the first event.
"The team as a whole had a really great start. To have four ladies in top 10 and three men in the top six is a tremendous start. We are all looking forward to carrying this momentum to the next event."
---

1872 Comments on "Vonn takes break from World Cup circuit to recover energy, strength"