Kroell fastest in first Birds of Prey downhill training run
Vonn tops in training at Lake Louise
The fastest men on skis hit the sparse snow on Beaver Creek's vaunted Birds of Prey downhill course on Tuesday, getting a feel for the terrain ahead of Friday's real deal. Two more training runs are scheduled for Wednesday and Thursday at 10:45 a.m.
The main event, the daunting
Birds of Prey World Cup
Downhill, will go off at 10:45 a.m. Friday minus the defending champ, Bode Miller, who's still recovering from micro-fracture knee surgery last spring in Vail.
Miller will miss out on what may be an even wilder ride than last season given the lack of snowpack that accentuates the terrain features. Last year, in similar conditions, Miller
acknowledged his nervousness
about the "serious risks" of skiing to win on the Birds of Prey course.
But the defending World Cup downhill champ, Austria's Klaus Kroell, will be there Friday, and he looks like he's in good form after turning in the top training run time Tuesday in 1 minute 41.52 seconds. Teammate Max Franz was second, and Italy's Christof Innerhofer was third in a run that doesn't count in the record books.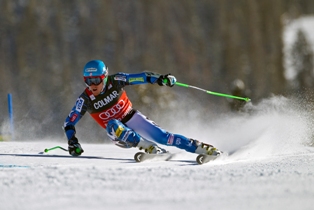 In fifth was Norway's Aksel Lund Svindal, who won both the downhill and super G at Lake Louise last weekend. The two-time overall World Cup champion has a stellar history at Beaver Creek,
winning the downhill in 2008
after a horrific training run crash on the course the year before that put him in the Vail Valley Medical Center and cost him an entire season.
The top Americans on Tuesday were Squaw Valley's Travis Ganong in 15th and Marco Sullivan in 16th. Sullivan is coming off a
third-place finish in the downhill
at Lake Louise, Canada last weekend after being demoted to the B Team and losing his ski sponsor.
Sullivan, 32, has won just one World Cup race in his career – on the famed Kandahar downhill course in Chamonix in 2008 – and he's suffered many injuries in his career, including a season-ending one at Beaver Creek in 2003. But he is perhaps best known for a training crash in Bormio, Italy in 2010 (see video).
Vail's Lindsey Vonn also won't be in Beaver Creek this year after winning a World Cup super G here last year on the traditional men's course in a makeup for a women's race in France that was cancelled due to a lack of snow.
Vonn was
first in a training run at Lake Louise
on Tuesday, nearly a second ahead of her friend and rival, Maria Hoefl-Riesch. The Ski and Snowboard Club Vail product left Aspen early to get a jump on training in Canada. She finished 21st in a giant slalom on Saturday in Aspen after being hospitalized the week before with a
stomach ailment in Vail
.
Eagle-Vail's Mikaela Shiffrin won't be racing in the speed events at Lake Louise, where Vonn swept two downhills and a super G last season and would like to
race against the men
. But Shiffrin was the best American in Aspen over the weekend, finishing 9th in the GS and 7th in the slalom.
"I had a great weekend; I had so much fun here," Shriffrin said after Aspen. "It was a beautiful, awesome slope. It was challenging, because I'm just trying to establish myself as a competitive racer with all these other guys. All in all, I'm psyched to be home. I love racing this hill."
Vonn, on the other hand, has
admitted she doesn't particularly like the Aspen
course. But she's won 11 times at Lake Louise, including nine downhill races.
Next up for Shiffrin is a GS at St. Moritz, Switzerland on Dec. 7-9. There's also a super combined and a super G scheduled there that weekend, where Vonn should be rounding into form. Then it's on to a super G and a downhill Dec. 14-15 in Val d'Isere, France.
---

12 Comments on "Kroell fastest in first Birds of Prey downhill training run"