Vonn to race in GS but skip slalom in Aspen after severe intestinal illness
ASPEN — Lindsey Vonn is going to ski in one of two World Cup races here this weekend, despite an illness that landed her in a Vail hospital for two days and majorly disrupted her training schedule.
"I had a very bad bug but thankfully the antibiotics worked," the four-time World Cup champion told reporters who crowded into a press conference at the St. Regis hotel late Friday afternoon to hear her first comments since getting
released from the Vail Valley Medical Center
.
"It was bad. I'm not going to lie. It was the most pain I've ever been in," she said.
Vonn, 28, will race in the giant slalom but skip the slalom on Aspen Mountain, where she and most of the American women have struggled in the past. In 2010, Vonn finished in the top 10 in an Aspen Mountain slalom but she still missed making the podium. Her best finish is fourth. Tamara McKinney is the last American woman to win gold on Aspen Mountain, which happened in a 1981 giant slalom.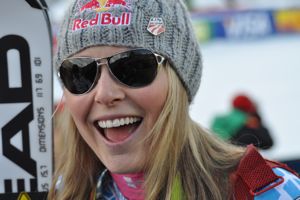 "To be honest with you, Aspen is not exactly in my wheelhouse," Vonn said. "It's a very difficult course for me — it's very challenging terrain, it's steep, it's at a high altitude — it just doesn't feel good."
The superstar from Vail reports that she came down with a severe intestinal illness at an industry fundraiser in New York recently. She checked into the Vail Valley Medical Center last week and did some free skiing in Vail over the weekend. Vonn said her strength and cardiovascular stamina are below her standards and she is struggling with her appetite.
Given her physical condition, lack of training and difficult history in Aspen, Vonn is keeping her expectations to a minimum.
"Racing to me is the fun part. I'm not exactly expecting much from the results," she said. "[But] it's always fun to be racing at home. … When I thought of the possibility of not racing here, it made me extremely sad."
More than racing in Aspen, however, Vonn, hoped she would be able to race in Lake Louise — against the men, who she thinks she can beat. But the International Ski Federation (FIS) recently rejected Vonn's bid to race against men in Oberhofen, Switzerland, with officials saying in a prepared statement that the FIS "respected" her proposal to participate in men's World Cup races but "that one gender is not entitled to participate in races of the other and exceptions will not be made to the FIS Rules."
At her press conference in Aspen, Vonn expressed disappointment with the ruling.
"It wasn't a maybe. .. It was an absolute so that was tough," she said. "For me the story is still ongoing, it's not over yet. There is still next year. I'm going to keep working hard to make my dream a reality."
"But right now my focus is on Aspen," Vonn said.
---

2 Comments on "Vonn to race in GS but skip slalom in Aspen after severe intestinal illness "