Ski cross standout Del Bosco sidelined after shoulder surgery in Vail
Reigning ski cross world champion Chris Del Bosco is hoping to make a quick recovery after a training accident in Canada earlier this week and shoulder surgery Thursday in Vail.
Del Bosco, who grew up in Eagle-Vail and now lives in Montreal, Quebec, has been one of the best ski cross racers in the world over the last four years. He separated his shoulder when he crashed during training at Nakiska, Alberta, earlier this week.
The 30-year-old was training with the Canadian ski cross team (he holds dual citizenship and races for Canada) in preparation for the inaugural Audi FIS Nakiska Ski Cross World Cup race on Dec. 8. He'll now miss that event and likely another two to three months of competition.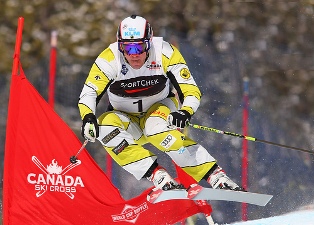 "I've been in this situation before and I'm confident I know what it takes," said Del Bosco, who was told he might be out for a year after having knee surgery in 2010 but returned to snow within six months.
"This is going to be a great year for Canadian ski cross. I'm bummed I can't be there to start it off in Canada but I know we will be well represented. I wish all my teammates the best. I will be back to help them out later in the season."
Del Bosco is a talented all-round athlete who has spent the past two summers racing mountain bikes against the best in the world. He hopes to be back racing ski cross by the time the Olympic test event takes place in Sochi, Russia, in February. The 2014 Winter Olympics will be held in Sochi in February of that year.
Getting back on skis for the Sochi test event would allow Del Bosco time to regain his race sharpness and hone his passing skills before he sets out to defend his world championship title in Voss, Norway, in March.
"This is a time to refocus and start moving forward again," said Del Bosco, who also won X Games gold in 2012. "I will do everything I can to come back strong and defend my title."
---

2 Comments on "Ski cross standout Del Bosco sidelined after shoulder surgery in Vail"