Lance takes the high road in Aspen
While a
grand jury
convened in Los Angeles to examine whether cyclists committed crimes connected to doping, Lance Armstrong pedaled around Aspen on Sunday, literally taking the high road.
He biked up to the Maroon Bells where he stopped to pose for photos with children stricken with cancer. The seven-time Tour de France winner waved at his fans, signed autographs and was reportedly in high spirits as he knocked out a 50-mile ride in about 2 1/2 hours for the inaugural benefit for the nonprofit Wapiyapi.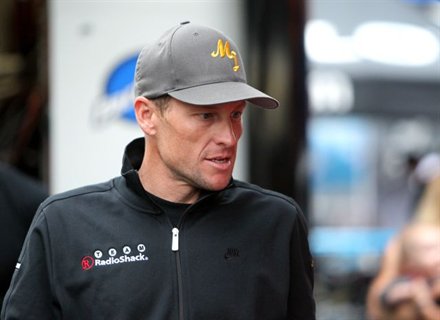 "We haven't finished tallying up all of our expenses and gross, but we probably netted $150,000. That's huge for us," said Aaron Smith, the executive director for Wapiyapi, which is the Native American word for "healing." The group organizes camps, retreats and support for children who have cancer.
Armstrong, a cancer survivor himself and a part-time resident of Aspen, became the main attraction of the charity event thanks to his girlfriend, Colorado native Anna Hansen.
Like the founders of Wapiyapi, Hansen attended the University of Colorado, where she studied biology, and began volunteering for the nonprofit. After she graduated, Hansen was tapped as a board director for Wapiyapi, and she also did some work with Children's Hospital in Denver and she became program manager for First Descents, which is a nonprofit dedicated to providing outdoor adventures to children with cancer.
Armstrong met Hansen through charity work and they began dating in July 2008. Now they have a 16-month-old son, and another baby on the way. (Armstrong has three other children from his marriage to Kristin Richard and, in late October, he is expected to have a total of five children.)
"We were trying to find a beautiful location to do a ride in the fall," Smith said. "We wanted to hold it someplace where if people were to leave the Front Range, they would want to go. We talked with Anna and Lance about getting them involved and it turned out we held it in Aspen on one of the best weekends of the fall."
The weather was postcard perfect Sunday and over 300 riders turned out for the fundraiser.
Smith said the money raised in Aspen over the weekend will allow Wapiyapi to eliminate the waiting list for next summer's camp. Last year, 125 children participated but 35 other children were stuck on the waiting list due to a lack of funding. Smith said the money will also help his organization embark on other new endeavors like providing support for Spanish-speaking families and support for families who have lost a child to cancer.
"It changes the ballgame for us completely," said Smith, the only paid member of Wapiyapi. "It really allows us to begin providing some of the things we've been dreaming about for years."
Smith said Wapiyapi, which is dependent on 180 volunteers, will be returning to Aspen next year.
"Everyone in our organization was blown away by the support Aspen showed our event," he said.
Hansen, meanwhile, told the Associated Press that Armstrong is focusing on charities, not grand juries.
"I think you're always going to have people that are negative and haters and trying to spin stories to get attention or money," Hansen said. "I think you have to focus on the positive. That's kind of what we've been trying to do is focus on family and devoting our time to causes we care about — like this."
---

320 Comments on "Lance takes the high road in Aspen"