FIS rejects Vonn's bid to race against men
In the end, all the hoopla over Vail's Lindsey Vonn racing against men in a World Cup downhill in Canada was just that: hoopla. The International Ski Federation (FIS), where all innovative ideas go to die, rejected Vonn's bid to see how she stacks up against male racers.
The FIS Council, meeting Saturday in Oberhofen, Switzerland, gave the plan an official Heisman.
"The council respected Lindsey Vonn's proposal to participate in men's World Cup races and confirmed that one gender is not entitled to participate in races of the other and exceptions will not be made to the FIS Rules," FIS officials said in a prepared statement.
"In terms of her request to participate in the men's downhill in Lake Louise, she is welcome to submit a request to the Organising Committee and jury to be a forerunner."
Canadian ski racing officials were predictably unhappy about the FIS ruling.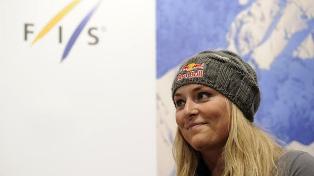 "I'm disappointed to hear that Lindsey will not be racing against the men in Lake Louise," Alpine Canada President Max Gartner said in a press release."I saw it as a great opportunity to raise the profile of the sport by attracting interest from people who do not normally follow ski racing, particularly in North America. It would have provided a great platform to showcase our sport and the amazing athletic performances of our athletes."
In early October, Vonn, the winningest American ski racer of all time with 53 World Cup victories, sent a letter to FIS officials asking to race in the men's World Cup downhill at Lake Louise, Canada on Nov. 24. Vonn has won nine downhill races against women at Lake Louise, and two World Cup super G races.
"Lindsey has achieved many milestones in ladies' ski racing," Gartner said. "It would have been interesting to see how she stacked up against the best male racers in the world. Lake Louise is the perfect venue to have that comparison because Lindsey has as much experience on the mountain as many of the men have had. I hope Lindsey gets a chance to fulfill her dream at a later date."
The U.S. Ski and Snowboard Association (USSA) last weekend made an official request to FIS President Gian Franco Kasper to "provide a clear direction on how to effectuate [Vonn's] goal in a manner which preserves the integrity of the Audi FIS World Cup, protects her competition eligibility, holds harmless FIS quotas and start rights, and respects the rights of all FIS athletes and FIS stakeholders."
USSA officials expressed disappointment after Saturday's decision.
"Lindsey Vonn is a great champion in our sport and we have always respected her interests in this new challenge," USSA President and CEO Bill Marolt said. "It's important for us to support athletes like Lindsey. She has achieved greatness from her tenacity in seeking new challenges.
"We're disappointed that the FIS Council did not support the proposal but also respect its direction. Now we have to keep a strong focus on the World Championships this season and the 2014 Olympics."
Aspen race officials aren't at all disappointed Vonn won't be racing against men Nov. 24 in Canada. That's because they hope to see her on their slopes for a World Cup giant slalom that day.
"Obviously we would love to see Lindsey race in Aspen," Aspen Skiing Company spokesman Jeff Hanle said before the FIS decision. "She is the top female ski racer in the world and the fans here in Aspen and the race organizers would miss her presence. If she ends up going against the men, we will all be cheering for her, but we would rather see her on our course and on our podium."
Vonn, a speed event standout who dominates in downhill and super G, has never been on a podium (top 3) in Aspen, which typically only hosts GS and slalom races each season.
---

1 Comment on "FIS rejects Vonn's bid to race against men"