Snowstorm heads into Colorado as Copper, Keystone, Wolf Creek set to open next
A winter storm that dumped huge amounts of snow in the Lake Tahoe area earlier this week was headed into Colorado Wednesday evening, promising to coat the state's ski resorts with at least a few inches of fresh snow Wednesday evening through early Friday morning.
That's welcome news for Colorado's ski industry as it looks to bounce back from one of the warmest, driest winters on record last season. Two Colorado resorts – Loveland Ski Area and Arapahoe Basin – are already open for the 2012-13 ski season, and three more – Keystone, Wolf Creek and Copper Mountain – will join the fray on Friday, Nov. 2.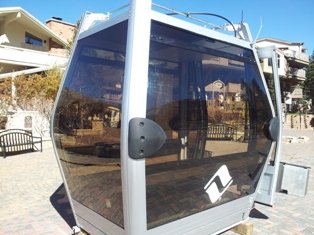 Forecasters are calling for 3-6 inches at the ski areas along Interstate 70 and north starting about 7 p.m. Wednesday. A few more inches could then fall on most resorts by the early morning hours Friday, according to
Opensnow.com
.
A couple of hundred lucky Copper Mountain season pass holder will get a chance to preview the product a week from now on Halloween, as Copper opens up its U.S. Ski Team Speed Center for VIP tours and lunch with members of the U.S. squad. They'll be fresh from the World Cup opener in Soelden, Austria, this weekend, where both men and women race giant slalom Oct. 27-28.
Copper Mountain season pass holders can enter to win a chance at the special Oct. 31 VIP preview on Copper's
Facebook
page until Friday, Oct. 26.
Snowmaking crews at Vail, which doesn't open to the public until Friday, Nov. 16, have been working hard to get Golden Peak online for U.S. Ski Team training as soon as the squad returns from Soelden. The latest storm could help provide much-needed natural snow and significantly lower temperatures ideal for snowmaking.
The 2013 U.S. Alpine Ski Team will be officially named and introduced during the Nature Valley First Tracks celebration in Vail on Thursday, Nov. 15. Following a 5 p.m. live program, members of the newly named squad, including Olympic gold medalists such as Vail's Lindsey Vonn, Julia Mancuso, Ted Ligety and Bode Miller, will be on hand to meet fans and sign autographs.
First Tracks begins Thursday, Nov. 15 at 4:30 p.m. with hot cocoa, cookies and live music in Arrabelle Square at Lionshead.
"It's always fun for me to meet people who are as passionate about skiing as I am," Vonn said in a press release. "The U.S. Ski Team naming in Vail is a blast and the community really comes out to support us."
Now in its third winter at Vail, Nature Valley First Tracks is just the start to a full weekend of activity that continues Friday, Nov. 16, with opening day and the dedication of Vail's new Gondola No. 1.
"We're honored to host the U.S. Ski Team announcement event for the third consecutive year and kick off on the eve of opening day of Vail's 50th anniversary season," Vail Mountain Senior Vice President and Chief Operating Officer Chris Jarnot said in a release.
"Having the country's top alpine ski racing athletes in Vail for early-season training is tremendously inspiring for our community and a clear sign that the winter ski and snowboard season is upon us."
So is the storm system that will whiten Colorado through the end of the week.
"We're prepared for this one and ready to battle a lot more snow and ice over the next few months," said Colorado Department of Transportation Deputy Maintenance Superintendent Dave Miller, who oversees the western portion of the Interstate 70 corridor between Idaho Springs and Vail Pass. "All available resources will be up and operating, keeping the highways open and safe for travel this winter."
---

1355 Comments on "Snowstorm heads into Colorado as Copper, Keystone, Wolf Creek set to open next"