Helicopter installs 19 towers for Vail's new 'Gondola 1'
A Vail construction crew on Thursday, working ahead of an incoming winter storm, used a helicopter to successfully set and secure the 19 towers for the new Gondola 1 on Vail Mountain.
A CH54 Skycrane helicopter brought the towers in and hovered above the tower pads while workers secured them into position.
The Leitner-Poma high-speed gondola replaces the Vista Bahn Express chairlift from Mountain Plaza in Vail Village to Mid-Vail. The gondola is the first and fastest of its kind in North America, increasing uphill capacity by 40 percent.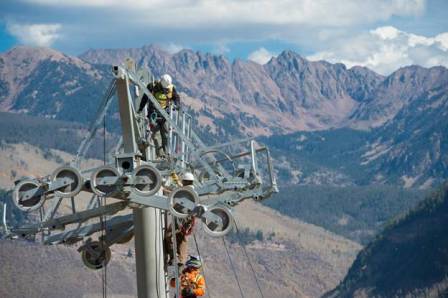 The 10-passenger gondola cabins will provide skiers and snowboarders a 7.5-minute ride onheated, cushioned seats and full Wi-Fi access.
The new gondola will have the number "1" to commemorate Vail's original gondola in that same location on Vail's first opening day, Dec. 15, 1962, but it will be renamed when its operational for this season's opening day on Nov. 16
The 2012-13 ski and snowboard season marks Vail's 50th anniversary.
---

0 Comments on "Helicopter installs 19 towers for Vail's new 'Gondola 1'"
Be the first to comment below.