Tancredo gains momentum in governor's race as Colorado Republican rift widens
Third-party Colorado gubernatorial candidate Tom Tancredo has been having a pretty good week. On Monday the Republican turned American Constitution Party candidate for the first time surpassed GOP nominee Dan Maes in a Rasmussen Reports poll by a margin of 25 to 21 percent.

Then on Tuesday a Denver district judge ruled against a lawsuit challenging Tancredo's candidacy filed by two Maes supporters. They claimed the former congressman shouldn't have been on November's ballot because he hadn't been a member of the ACP long enough.
Tancredo replaced the original ACP candidate, who stepped down voluntarily, because he says Maes is incompetent and incapable of beating the Democratic nominee for governor, Denver Mayor John Hickenlooper, who leads in the Rasmussen poll with 46 percent of the vote.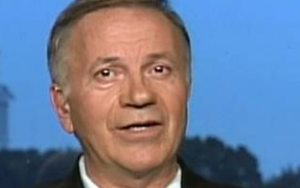 "Colorado voters aren't satisfied with a choice between a liberal Denver mayor and an Evergreen con man [Maes]. They want another choice," Tancredo campaign manager Bay Buchanan said in a release. "And they are choosing Tom Tancredo."
On Wednesday, Colorado State Board of Education Chairman and former Republican Congressman Bob Schaffer, who unsuccessfully ran for the U.S. Senate seat won by Mark Udall in 2008, endorsed Tancredo.
"Tom has always been a tireless leader on issues of education reform, tax limitation and economic growth," Schaffer said in a Tancredo campaign release. "I'm proud to support Tom Tancredo, and I urge all educators, tax reformers and business leaders across the state to do the same."
The Colorado Independent last week called all 63 GOP county chairs and spoke to 28 of them about the Colorado Republican Party's handling of the governor's race, in which state party chairman Dick Wadhams reportedly brokered a deal to get former state Senate Minority Leader Josh Penry of Grand Junction out of the race in favor of former U.S. Congressman Scott McInnis.
McInnis lost in the August primary to Tea Party favorite Maes after the Denver Post revealed a plagiarism scandal in which McInnis was paid $300,000 by the Hasan Family Foundation to write about water issues. McInnis later admitted the articles were not original but blamed the mistake on a paid researcher.
Most of the GOP county chairs interviewed by the Colorado Independent said they still support Maes and Wadhams, but many were not happy with the handling of the governor's race. Some said they wish Penry had stayed in the race, and others want Tancredo to get out of the fray, afraid he'll split the GOP vote and hand Hickenlooper the governor's mansion. Eagle County Republican Party chairman Randy Milhoan did not return a call requesting comment.
Maes also has had his problems, paying a record $17,500 in campaign finance fines for improperly paying gas mileage using campaign funds. He raised eyebrows with comments about the potential loss of personal freedoms because of a United Nations-backed bicycle-sharing program in Denver. And he backtracked on claims he made about being an undercover police officer in Kansas in the 1980s.
"Now in retrospect with all the information that's come out against Maes, he has been discredited as a viable candidate and now we have Tancredo, who is a great arch-conservative but now he's no longer a Republican, he's a constitutionalist," said state Sen. Al White, R-Hayden, whose district includes the Vail Valley.
"Regardless, I think what's going to happen is Maes and Tancredo will split the vote and I think John Hickenlooper will become governor," White added. "I'm not going to comment on what anybody else should do. I'm just going to tell you I'm not endorsing either of those candidates and haven't made up my mind yet on who I'll vote for."
Schaffer's endorsement of Tancredo is part of a growing list of prominent Colorado Republicans backing the candidate for the American Constitution Party, which broke from the Colorado GOP in the 1990s to advocate for a hard-core, socially conservative agenda.
Here are the other supporters announced by the Tancredo campaign Wednesday:
o Republican Arapahoe County Commissioner Jim Dyer
o Former Republican state Sen. Bruce Cairns
o Former Republican state Sen. Tom Wiens
o Former Republican state Rep. and Minority Leader Joe Stengel
o Former Republican state Rep. and former Arapahoe County Assessor Jim Reeves
o Former Republican state Rep. Lauri Clapp
o Former Republican state Rep. Ruth Prendergast
o Former Republican state Rep. Eric Prinzler
o Former Republican State Rep. Jim Welker
o Former Democrat state Rep. E.E. Casey Hayes
o Former Republican candidate for Congress and KNUS host Jimmy Lakey
o Former Arapahoe County Republican Chairman and current Republicans for Tom Tancredo State Chairman Nathan Chambers
o State Chairman, Democrats for Tom Tancredo, Lou Schroeder, Arapahoe County
o Republican activist Dan Kopelman, Arapahoe County
o Republican activist Ted Martin, Arapahoe County
o Former administrative officer Rose Evans, EPA Denver (Reagan Administration)
o Democratic activist (Retired) Col. David Hughes, El Paso County
Previous endorsements for Tancredo include: former Congressman Bob Beauprez, state senator and former Senate Minority Leader Josh Penry, Assistant Minority Leader Greg Brophy, state Sen. Ted Harvey, state Reps. Marsha Looper, Cheri Gerou, and Spencer Swalm, Arapahoe County Clerk Nancy Doty, and Mesa County Commissioner Janet Rowland.
---

397 Comments on "Tancredo gains momentum in governor's race as Colorado Republican rift widens"