At-risk youth learning life lessons at London Olympics
SOS Outreach teams with Global Sports Development to send 20 Colorado kids to summer games
London is one of the most expensive cities on the planet, and going for the gold at the Olympics – either as an athlete or just a spectator – requires a lot of cash.
So 20 kids from low-income and minority families in Denver and throughout Colorado know just how lucky they are to be at the London Olympics experiencing the Games and hopefully being inspired to take on greater leadership roles in their own communities.
"It's a once-in-a-lifetime opportunity," said Kevin Rodriguez, 15, of Avon, Colo. "The Olympic Games are pretty inspiring. If I do my best, maybe one day I could be up there too [competing]."
Rodriguez is a snowboarder and Junior Sherpa in a Colorado-based youth development program called
SOS Outreach
that uses outdoor adventure sports like skiing and rock climbing to build confidence and teach leadership skills to at-risk youth.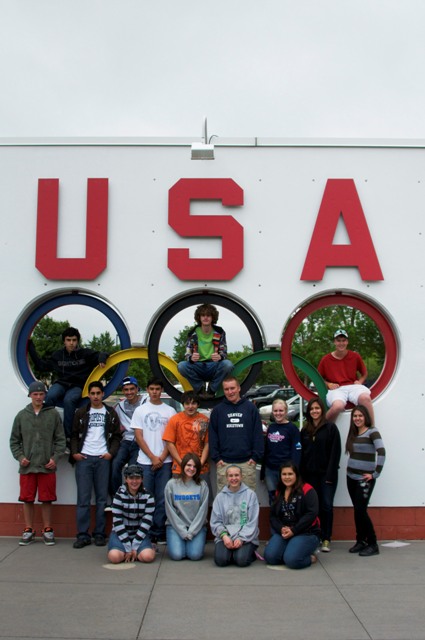 Gretchen Bleiler, a 31-year-old Olympic silver medalist in snowboarding, last winter snowboarded with some of the SOS kids who headed off to London late last week.
"They have such great heads on their shoulders and they were all so nice to each other and easy to talk to," said Bleiler, a four-time X Games gold medalist. "You don't find that too often with kids that age. You can tell that the program really has contributed to and affected these kids."
Bleiler, who lives in Aspen, said that many city kids and even the children of resort workers in mountain towns can't afford to recreate in the surrounding national forests.
"Snowboarding and the lessons you learn on the mountain are so amazing and can be applied to everyday life," Bleiler said. "Unfortunately, it is a very expensive sport, so there aren't a whole lot of people who get to experience it. So to have an organization like this that is giving opportunities to kids who would never get these opportunities is invaluable."
Funding for the London trip came from the Global Sports Development (GSD) Playmakers program, and the 20 kids ranging in age from 13 to 17were selected by SOS. They're attending cultural events, meeting with Olympians, sightseeing and going to ticketed competitions.
"I'm so encouraged by all the prep work these kids have done, including reading about gender equality, fair play, respect for coaches and drug-free sports," GSD board member Steven Ungerleider said in a release.
Rodriguez said many of his friends in the Latino community near Vail live in the shadow of internationally famous ski resorts but don't have the money to ski or snowboard. SOS gives them that opportunity but also instills the importance of volunteering and being a leader.
"It's just been a really good experience," Rodriguez said. "It's taught me a lot of leadership skills, the five core values [courage, discipline, integrity, wisdom, and compassion] and just totally changed my life. It's a second family."
Another SOS participant and now mentor for the program -- which started in Eagle County in 1993 as the Snowboard Outreach Society and now serves 5,000 at-risk youth in 16 states -- credits SOS with helping him land at one of the best schools in the nation.
Paco Holguin, 18, of Eagle, Colo., is taking summer courses and gearing up for his freshman year at the Massachusetts Institute of Technology.
"I can't really say if SOS wasn't there where I would be, but it definitely helped solidify what path I wanted to take," said Holguin, who grew up in a large family "living paycheck to paycheck" in Eagle. Now he plans to major in physics at MIT.

---

7 Comments on "At-risk youth learning life lessons at London Olympics"