Colorado mom to train in South America with Vail's Schleper, Vonn after winning NASTAR title
PARK CITY, Utah – Colorado's Jeanette Saylor is packed and ready to rip with the women's U.S. Ski Team this week in Valle Nevado, Chile -- a trip she earned by posting the fastest time at the 2010 Nature Valley NASTAR National Championships held at Winter Park, Colo.

She'll join the likes of Olympic champion Lindsey Vonn and U.S. champion Sarah Schleper, both Vail, for the training camp of a lifetime, courtesy of Nature Valley NASTAR and the U.S. Ski Team.
Men's winner Robby Zehner, also a Rocky Mountain local, will join the U.S. Ski Team later in the season after the men shifted their fall session from nearby Portillo to Mt. Hutt in New Zealand. Zehner, who also captured the men's title in 2009, spent a week with the men's speed team last fall in Portillo.
"NASTAR is where ski racing begins," said two-time Olympian Steven Nyman (Sundance, Utah), who served as a pace setter at the 2010 championships. "Nature Valley and NASTAR support alpine skiing from roots to World Cup and I'm proud to be a part of it. Everyone from serious racers to families can ski together with NASTAR, whether you're 90 or two, we're all on the same, course, same hill, just having fun ski racing."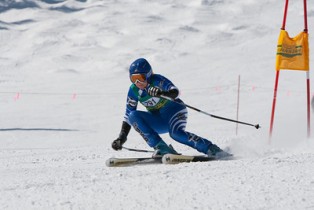 "We are excited to provide this amazing opportunity to Jeanette and Robby," said Nature Valley Marketing Manager Martin Abrams. "We're anxious to hear about the experiences they share with all of the great members of the U.S. Ski Team."
Saylor, a 54-year-old mom of two, will join the women's technical Team, including four-time Olympian Schleper, Olympians Hailey Duke (Boise, Idaho), Resi Stiegler (Jackson, Wyo.) and Vonn, the reigning Audi FIS World Champ who plans to rotate over to Valle Nevado from speed training in Portillo.
"Nature Valley NASTAR is an amazing experience for thousands of recreational skiers, bringing the exhilaration of our sport to them at their own ability level," said the U.S. Ski Team's Chief Revenue and Marketing Officer Andrew Judelson. "The opportunity for these Nature Valley NASTAR champions to experience life at a U.S. Ski Team camp will be something they will never forget. Our athletes are proud to be involved."
"My goals for last season were simply to have fun, learn something and get better," said Saylor, a USSA Masters racer out of Copper Mountain. "I accomplished them all, but never expected to win such an incredible opportunity with the U.S. Ski Team."
Born in British Columbia, Saylor moved to Aspen at 15 and rose up through the junior ranks before deciding to return to Canada for a shot at the national team. A Canadian downhill title in 1976 earned her that shot, which she held through the late seventies when injuries resulted in low finishes on the World Cup.
"I got hurt, ran out of money and just like that I was out of ski racing and into college," said Saylor.
After raising two children ski racing with the heralded U.S. Ski and Snowboard Association club program of Team Summit, she found herself back in the sport when her daughter Erika started college at the University of Northern Colorado.
"Back then, only the best Canadian guys could go to Chile to train in the summer, so I never got a chance. Who would have thought my chance would come when my own kids are in their 20s? Nate's 26 now and Erika is 22 – they're both psyched for me. This is just awesome," she said.
Although Zehner had to take a rain check on South America, he's more than excited to see where the team takes him later in the season.
"I was scheduled to leave with them next Thursday," Zehner said. "But Nature Valley, NASTAR and the U.S. Ski Team are creating a 'Plan B' and I might get to travel to Europe or Canada instead and hang with the team. Portillo last year was an amazing experience and it was my goal all winter to win the trip again. Thanks to Nature Valley and NASTAR, I'll basically have a once-in-a-lifetime experience twice."
The Nature Valley NASTAR National Championships, with over a thousand participants annually, return to Winter Park in 2011, just a week prior to the U.S. Alpine Championships, which make their return to Winter Park next spring for the first time since the early 90s.
For more on the Nature Valley NASTAR National Championships, check out www.nastar.com.
---

416 Comments on "Colorado mom to train in South America with Vail's Schleper, Vonn after winning NASTAR title"