Rancics tout power of positive thinking, early detection at Vail Breast Cancer Awareness Group luncheon
If you happen to see Bill and Giuliana Rancic wandering the streets of Vail or Beaver Creek toward the end of August, tell them congratulations and offer the king and queen of reality TV a place to stay. Chances are, something good will come of it.
The Rancics, subjects of their own reality show on the Style Network, seemingly exude positive energy these days – and it radiated in excess from a stage in the Vail Marriott ballroom on Sunday when the uber-attractive couple addressed some 600 attendees of the 18th annual Vail Breast Cancer Awareness Group (
VBCAG
) Celebration of Life Luncheon.
After Giuliana's very public battle with breast cancer, discovered by Denver-based fertility Dr. William Schoolcraft, the couple is awaiting the birth of their first son to a surrogate (technically a gestational carrier) in six weeks in Denver. They plan to spend the last 10 days of August in the Vail Valley in case their son is born a little early.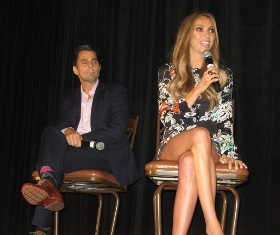 Thirty-six and very fit when she was diagnosed, Giuliana didn't think she needed the mammogram required by Schoolcraft before in vitro fertilization (IVF) – a course the Rancics were pursuing before Giuliana's double mastectomy and subsequent cancer treatment made surrogacy more practical.
But Schoolcraft insisted on a mammogram because the surge of hormones that comes with IVF can accelerate any cancer cells. In that way, the Rancics say their quest to become pregnant and the journey that's led to the imminent birth of their first son saved Giuliana's life. Now she's cancer-free and preaching the power of positivity.
"You decide how you feel, ultimately," Giuliana told the packed house in Vail, many of them breast cancer survivors. "The day I decided, not long after surgery, that I'm going to turn a negative into a positive, I'm going to see the light in all of this, I'm going to see the good in all of this, as soon as I was able to do that, everything changed, and suddenly the universe, God, started handing me all of these wonderful things because my attitude completely shifted."
The Rancics had already agreed to do a reality show before their fertility issues, cancer battle and subsequent surrogacy. They decided to go through with the show to help other couples having the same problems in their lives. Giuliana is also an E! News anchor and co-host with Joan Rivers of E!'s "Fashion Police." Bill, a Chicago real estate developer, was the winner of Donald Trump's first season of "The Apprentice" reality show.
The couple is using their high-profile public platform to urge early detection and diagnostic follow-through. Giuliana told how she almost left the waiting room of a doctor's office in Beverly Hills because she knew she had breast cancer and didn't want to have to hear her worst fears confirmed by test results.
Before introducing the Rancics, Vail Breast Cancer Awareness Group President Kristin Kenney Williams announced the group is donating $50,000 a year for a local "gap fund" that will pay insurance costs for any woman who has something show up during a mammography but balks at the cost of diagnostic follow-up. Bill Rancic praised the fund, emphasizing that had Giuliana left that doctor's office and failed to go through with the necessary follow-up tests, their story might have had a much less positive ending.
Bill said their unborn son may have already saved hundreds of women's lives by so dramatically demonstrating the need for early detection and diagnostic follow-up. He then relayed yet another humorous story -- their speech often came off as a well-rehearsed (but totally natural) comedy act – about flying out to Denver during the implanting of their "embryos on ice."
Giuliana, who was born and raised in Naples, Italy, was still recovering from her mastectomy, and the couple was keeping the surrogacy a secret.
"She told her mom that I was going skiing," Bill said. "(Giuliana's) lying in bed recovering from a double mastectomy and she tells her mother, who barely speaks English, that I'm flying to Denver to go skiing."
Giuliana, in a matronly Italian dialect, relayed her mother's reaction: "What kind of a man goes skiing? ... You should have married an Italian man, I told you."
Giuliana said Bill used "spend his summers in Vail," a line that drew a quick reaction from Bill.
"We didn't spend out summers," he said. "My parents were school teachers. We spent 10 days. Like I was some rich kid – 'spending his summers in Vail.' We spent out summers because it was a lot cheaper back then in the 80s to have a vacation here in the summer than it was in the winter."
"If you see us walking around town [in August], you'll know we're not staying in Bill's chalet," Giuliana laughed.
"But if you have a chalet that's vacant …," Bill quipped.
Besides their fertility doctor being based in Denver, the Rancic's surrogate is also in the Mile High City. Bill pointed out she's technically a gestational carrier because she's not donating her egg, which Giuliana said impacts their relationship to some degree.
"Which could be a little different, meaning if it were her child," Giuliana said. "Then maybe she'd want to be more a part of our life."
But Giuliana added the woman, now in her mid-30s, came here from France to be an au pair, and knew in her early 20s that she wanted to help a couple as a surrogate at some point. "From like 21 on she always knew she wanted to do this for a family," Giuliana said.
Asked what kind of connection they have with her, the Rancics said it's very good and that they plan to "maintain a relationship."
The Rancics answered audience questions well into the afternoon, then accepted a pile of gifts, including candy from
Sugarlicious
in Denver's Cherry Creek neighborhood – a store owned by Vail resident Jill Alfond.
"We've got a two-hour car ride to Denver," Bill said. "I know where this is going in the car," Giuliana added.
---

1395 Comments on "Rancics tout power of positive thinking, early detection at Vail Breast Cancer Awareness Group luncheon"