Colorado Conservation Voters rates enviro winners and losers in last legislative session
The economy and the environment "both won" in Colorado's legislative session this year, according to an annual scorecard that a leading state environmental group released Thursday.
All of the 31 legislators who Colorado Conservation Voters commended for scoring perfect 100s on how they voted on key environmental issues are Democrats. Three women — state Sens. Ellen Roberts, Nancy Spence and Jean White — scored the highest among Republicans, garnering a score of 71. Only one Democrat, Rep. Wes. McKinley of Walsh, scored lower than his Republican counterparts. Rep. McKinley was awarded a score of 33 after he voted for eight anti-environment bills and only four that helped the environment in the eyes of the nonprofit, nonpartisan
Colorado Conservation Voters
.
The scorecard tallied votes on "key conservation issues" from the 2012 Colorado legislative session, including "efforts to increase the recycling of electronic waste," "kick-start" the electric vehicle market, provide energy assistance to low-income households, restore forests, and "ensure long term wind and solar renewable energy funding." Legislators were also judged on where they came down on proposals to undermine the state's renewable energy standard, exempt counties from ozone testing and delay the state's water-quality standards.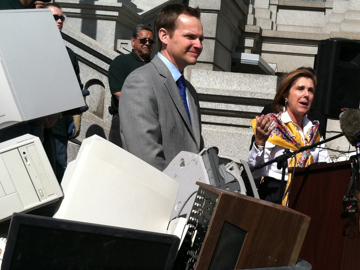 Colorado Conservation Voters program manager Faith Winter said the scorecard "is where the rubber meets the road for conservation issues in Colorado. It is easy for Coloradans to see which conservation champion is fighting for our clean air and water and who is falling short of matching the broad bipartisan support for protecting our air, land and water Coloradans express in public poll after poll."
Two Republicans, Reps. Don Coram and Brian DelGrosso, were recognized for helping "break the partisan divide." The scorecard praised Rep. Coram for how he "proudly used his mining background to sponsor the electronic waste recycling bill" and Rep. DelGrosso for using "his business perspective to help cut red tape to make it easier for local businesses to provide electric vehicle charging stations by sponsoring the electric vehicle bill."
Senate President Brandon Shaffer, Majority Leader John Morse, and Caucus Chair Morgan Carroll "were stalwart champions for the environment this session," the scorecard says, citing their roles in thwarting "attempts to undo Colorado's Renewable Energy Standard and loosen oversight of oil and gas drilling."
"There are many conservation leaders and supporters at the legislature but this report pays tribute to long-term leaders such as Senate President Brandon Shaffer and his leadership team, emerging rising stars like Rep. Pete Lee and Sen. Angela Giron and the conservation champion of the session Rep. Dickey Lee Hullinghorst," said State House Minority Leader Mark Ferrandino, who was given a perfect score. "Recent polling shows 67 percent of Coloradans across partisan and ethnic lines identify as conservationists and that support is reflected in the important work of protecting Colorado's environment at the State Capitol."
Fifty-one percent of the state's 100 legislators scored 80 or higher.
Low scores of 8 went to Rep. Marsha Looper and Kevin Priola in the state House, and Sen. Bill Cadman's 14 was the lowest in the state Senate, according to the scorecard.
"We saw some pretty bad bills this year that really go counter to where the polls show Coloradans are," said state conservation lobbyist Randy Moorman, citing bills by Rep. Jerry Sonnenberg that essentially would have called for the federal government to cede lands to the state and another that would have steered tax funds away from communities that need them.
There were heated debates over oil and gas development this year. The scorecard noted that bills aiming to both expand and reduce local oversight of the industry died at the Capitol. But the scorecard hailed moves made outside of the legislative session, namely a rule implemented in December that requires companies to disclose most of the chemicals and concentrations they use in hydraulic fracturing, and Gov. John Hickenlooper's energy task force that it says will enhance "the role of local government designees ... that will increase transparency and give the public access to more information." Other environmentalists have questioned the makeup and motives of the governor's task force.
The scorecard singled out Sen. Bob Bacon and Rep. Judy Solano for their green legacies.
Sen. Bacon, who has served 14 years in the legislature and has a lifetime score of 99, "has been a champion on countless environmental issues including making sure that we are not leaving a toxic legacy from irresponsible mining for our children to confront," the scorecard said. Rep. Judy Solano, who has served eight years in the House with a lifetime score of 98, "has been a leader on renewable energy; from bringing net metering to Colorado to working to increase the renewable energy standard and much more," it said. "Both Senator Bacon and Representative will be missed in the legislature but their legacy will live on in Colorado's natural places."
---

16 Comments on "Colorado Conservation Voters rates enviro winners and losers in last legislative session"