Despite Obama order, DeGette looks to make wildland firefighter health insurance permanent
U.S. Rep. Diana DeGette is moving forward with a bill she introduced Tuesday that would extend health insurance coverage to seasonal firefighters and their families.
Hours after DeGette proposed the Wildland Firefighter Health Protection Act, H.R. 6092, President Obama ordered his administration to this month begin offering federal health insurance to about 8,000 temporary wildland firefighters. But DeGette spokeswoman Juliet Johnson told the Colorado Independent Thursday that the congresswoman has decided her bill is still needed in order to make the insurance offer permanent. In the event Obama were to lose the election in November, she said, another president could rescind the order.
DeGette will be joined by firefighters at a press conference today in Denver to announce her decision.
Despite risking their lives and limbs, seasonal firefighters aren't covered by federal health insurance. Under U.S. personnel rules, seasonal employees can't buy into federal health insurance plans.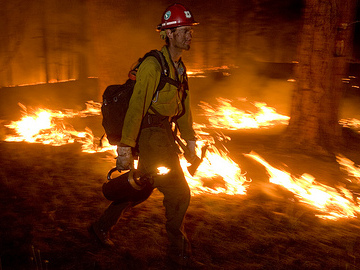 Colorado has weathered two of the most destructive wildfires in state history this month. The Waldo Canyon Fire in Colorado Springs torched 347 homes and the High Park Fire near Fort Collins burned down 259 homes. There have been many other serious fires in Colorado this year, including one near Conifer that killed three residents. Other Western states are also battling historic blazes.
"Anyone brave enough to lay their life on the line to protect our homes and our beloved state, should have the peace of mind that their health and the health of their families is secured," DeGette said in a prepared statement. "When my Congressional colleagues see these brave men and women saving our communities, and then hear about the discrepancy in their health insurance versus that of the local firefighters they stand alongside, I am certain they will recognize the urgent need to act."
Second District Democratic U.S. Rep. Jared Polis echoed her sentiments.
"Particularly in the wake of one of the hottest and driest Junes on record, and with several fires across the state, we increasingly rely on seasonal firefighters to battle these dangerous blazes, so it is only right that we offer them health coverage," he said.
Between 1999 and 2009, 222 firefighters died on the line, according to the DeGette-issued press release. Wildland firefighters work up to 18-hour days often in smoke and dust that can lead to serious pulmonary diseases, including chronic bronchitis and abnormal lung function.
Obama's main opponent, meanwhile, has been taking heat from some members of Colorado's firefighting community. After Mitt Romney came to Colorado Springs to box up food for firefighters and people who lost their homes, the GOP's presidential hopeful was reminded of remarks he made on the campaign trail. In Iowa, he pledged to shrink government in part by cutting back on firefighters, police officers and teachers.
"Firefighters don't need another photo-op in front of the cameras with someone who doesn't care about us," Randy Rester, president of Aurora Firefighters Local 1290, an affiliate of the Colorado AFL-CIO, said in a prepared statement. "What we need is someone who has our back with personnel, equipment, pensions, and health care. Mitt Romney doesn't back Colorado firefighters where it counts. And neither do any of the Colorado members who support firefighting budget cuts."
The Aurora Firefighters also criticized their Republican congressmen Mike Coffman, Cory Gardner and Scott Tipton for voting for the Paul Ryan budget, which would cut firefighting support by 19 percent.
Over the last two years, Congress has slashed the federal wildfire budget by $512 million.
There has been some bipartisan cooperation, however, as all nine of Colorado's congressional delegation asked Obama to declare the state a disaster area and free up federal funds, which the president did. And Thursday Sens. Mark Udall, D-Colo., and Orrin Hatch, R-Utah, introduced a resolution to honor the men and women who risk their lives to contain and extinguish wildfires.
"The lives of so many Utah families have been affected by disastrous fires sweeping across our state," Hatch said. "Thousands of brave firefighters have put their lives in danger to protect the lands, homes, and lives of Utahns and our neighbors in the West. This resolution honoring these great men and women comes at a time when we need their services the most, and it is the least we can do to thank them for being on the front lines to protect us in such dangerous situations each and every day."
Wildfires have burned more than 200,000 acres of private, state and federal land in Colorado so far this year, and more than 360,000 acres of land in Utah.
---

15 Comments on "Despite Obama order, DeGette looks to make wildland firefighter health insurance permanent"