Brook trout abound in small, isolated high-country streams around Vail
REI Anniversary Sale! Our Biggest Sale of the Year. Plus 20% Member Coupon. May 17 - 27. Coupon Code: ANNV13
Mark Grimaldi and Evan Demuth were a bit curious about the conditions as they ambled down the Piney River trail Sunday.
They had spent a week fly-fishing in the high altitudes of the Gore Range, so it's not surprising they were suffering from a bit of self-inflicted, fisherman's amnesia.
"We were in the pursuit of natural, wild trout," Grimaldi said with a grin as he described how their recent days had passed. "And we found them."

Their fish-induced euphoria, combined with a lack of cellphone service, had left them slightly disconnected with the daily news. In the past week, the Eagle River's water had reached a temperature above 60 degrees and the Yampa hit 72 degrees in the town of Steamboat. Ultra-warm conditions throughout the state are leaving most anglers with a furrowed brow as they worry what else this summer might bring.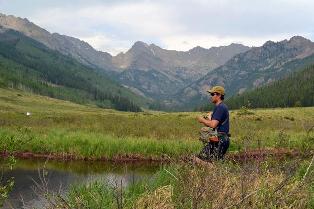 Not so for Grimaldi and Demuth, who were brimming over with tales of brook trout catches, dry flies, nymphs and even a woolly bugger maneuver — all leading to landed fish.
"One thing I love about brook trout fishing is that you catch a lot of fish," Demuth said. "Doesn't matter how many you catch, you still want to get your rod and get your fly back in there."
Catching, keeping and eating brook trout is all good and fine, said Trout Unlimited national communications director Chris Hunt. As far as he's concerned, anglers such as Grimaldi and Demuth should "feel good about killing every brook trout they catch" — within state regulations, of course.
Hunt, who runs the blogsite "Eat More Brook Trout," said he caught and smoked about 150 brook trout in 2011, and he would like to see more people doing the same.
"I think it's a fantastic idea for a couple reasons," Hunt said. "At higher elevations the water is going to be cooler, and you're not going to be impacting those lower streams, and there are some rivers that are really going to be taxed this year."
Brook trout also spawn in the fall, so they are a bit bigger than other trout fry. This advantage has pushed native cutthroats out of their original habitat, leaving the cutthroat swimming in about 10 percent of their original terrain, according to Trout Unlimited research.
The highly competitive brook trout also compete against one another, leading to very high populations but very small fish. This doesn't scratch the trophy fisherman's itch, but Hunt said there's more to fishing than metrics.
"Whenever I catch brookies, I'm almost guaranteed to be in an amazing place," he said. "It's going to be high elevation, beautiful mountain meadows, amazing views, and you're out in the place where the fishing is just a part of it."
Grimaldi and Demuth agreed.
"I love the solitude, the privacy," Grimaldi said. "You're not fishing shoulder to shoulder with anybody."
"Plus," he added, "I'm not that good of a fisherman, so the less pressure, the better."
The brookies' location in high mountain meadows, Hunt said, is one more reason people should put brook trout on the menu this year.
"More people need to get up into the backcountry and see what Colorado's all about," he said. "It's not about fishing next to I-70 or fishing within 30 feet of the next guy. It's about stretching your legs and getting up to some unbelievable places."
As Grimaldi and Demuth left the Piney River behind, three anglers stepped up to the clear waters above Piney Lake to ply their craft. Soon, they had the entire Piney Valley to themselves, without another angler in sight.
Editor's note: This story by RealVail contributor Tom Boyd first appeared in the Denver Post.
---

1481 Comments on "Brook trout abound in small, isolated high-country streams around Vail"