Crews gain gain total control of Eby Creek Fire near Eagle
Crews battling the Eby Creek Fire northeast of Eagle gained total control of the blaze today. Despite wind gusts up to 20 mph, the fire was 100 percent contained as of 7 p.m., and a pre-evacuation notice was lifted for area residents.
The 20-member Colorado River Crew was brought in to assist in firefighting, bringing the total number of crew members on the ground to 60.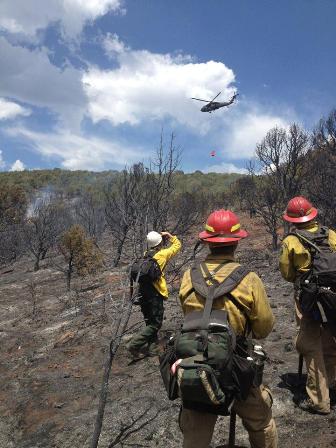 Water bucket drops occurred through the day with the assistance of one Black Hawk and one Chinook helicopter from the Colorado Army National Guard High-Altitude Aviation Training Site (HAATS) at the Eagle County Airport.
The eight-acre fire was reported at about 6 p.m. Thursday and was caused by lightning. A pre-evacuation notice was sent to 75 homes. All Eagle County residents are encouraged to subscribe to EC Alert at www.ecalert.org to have emergency notifications sent directly to a cell phone or email address.
Responding agencies last night and today include the Colorado National Guard, Greater Eagle Fire Protection District, Eagle County Ambulance District, Gypsum Fire Protection District, Eagle River Fire Protection District, Juniper Valley SWIFT crew, Salvation Army, Town of Eagle, U.S. Forest Service, Vail Fire Department, Colorado Department of Emergency Management, Eagle County Sheriff's Office, Eagle County Emergency Management and Eagle County Road & Bridge.
In addition, City Market in Eagle has provided meals to the ground crews and Eagle County Schools opened a facility to house the firefighters. For updates on the fire, visit www.eaglecounty.us.
---

918 Comments on "Crews gain gain total control of Eby Creek Fire near Eagle"