As wildfires roar across west, climate change, forest health debate heats up
Fears that Colorado's snow-starved winter would fuel one of the worst wildfire seasons in history have been realized as the High Park Fire has grown into the state's second-biggest on record while home-wrecking fires that popped up in Estes Park, Colorado Springs and elsewhere bring the total to at least nine.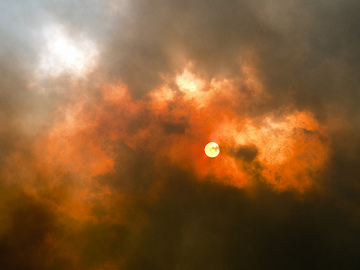 Waves of evacuations have plagued subdivisions north of Fort Collins since the High Park Fire began burning June 9, destroying nearly 200 homes. But while crews gained ground Saturday, containing 45 percent of that 82,000-acre blaze, fires erupted in Estes Park, where 21 homes were lost, and Colorado Springs, where residents scrambled to safety beneath dark, menacing skies.
There are six other fires scattered across the state, as well as monsters roaring in Wyoming, Utah, Nevada, New Mexico, Idaho, Arkansas, Arizona and Alaska. The parched grounds have turned much of the American West into a tinderbox. Hot temperatures and low humidity have created a perfect storm for a fire season to rival 2002, when the record-setting 137,000-acre Hayman Fire outshadowed a torrent of other wildfires that raced across Colorado. The snowpack in Colorado on June 1 was only 2 percent of normal and beetle infestations have left forests highly combustible. Temperatures in Denver on Saturday soared to 104 degrees, breaking the previous high of 102 set in 1954. Triple-digit heat is nuking much of the Front Range and higher elevations are in the 90s.
Over the next three decades, warming temperatures are projected to trigger more wildfires in most of North America and Europe, according to a recent study. Forest fires have occurred more frequently in the western United States since the mid-1980s as spring temperatures increased, mountain snows melted earlier and summers got hotter, other peer-reviewed studies have shown.

There were 15,272 warm temperature records broken in the United States in March and last month was the second-hottest May on record globally behind only the one that sizzled two years ago.
"The summers have been noticeably warmer. The snow has been melting out earlier in the spring. Even climate change deniers would have a hard time denying that fires appear to be getting much larger in the state. Of the 10 largest fires in the state's history, only one hasn't occurred in the last decade," Colorado State University Professor Emeritus Bill Romme told 9News earlier this month.
The fires have put a strain on national resources. Sens. Mark Udall and Michael Bennet, both D-Colo., championed the recent expedited acquisition of seven new air tankers to bolster the federal fleet.
"My thoughts and prayers go out to the thousands of residents who have been affected as a result of the High Park Fire, the Weber Fire, the Waldo Canyon Fire and all the other fires burning throughout Colorado," Sen. Mark Udall, D-Colo., said Sunday. "These fires and the severe effects they have had on thousands of evacuees and firefighters illustrate that we are in the midst of a very severe fire season. The windy, hot and dry conditions that helped fuel these fires highlight the importance of having adequate resources to fight wildfires. It also underlines the need to support the evacuees as well as the firefighters and first responders fighting these blazes on the ground and from above."
Of course the air isn't just thick with smoke. It also reeks of partisan rhetoric.
Rep. Cory Gardner, R-Colo., has called for an investigation into how federal roadless area policy may have contributed to the High Park Fire, even though the fire had barely touched any roadless and wilderness areas. And Rep. Scott Tipton, R-Colo., helped kill Rep. Ed Perlmutter's amendment that would have dedicated more federal resources to fire prevention, especially in areas impacted by pine beetle infestation. Tipton hasn't explained why he changed his support of the amendment.
Meanwhile, weird weather is becoming the new norm. The deadly Tropical Storm Debby, which is bearing down on the Gulf of Mexico, became the fourth named storm of the 2012 Atlantic hurricane season — the first time that there have ever been four named storms formed prior to July.
---

0 Comments on "As wildfires roar across west, climate change, forest health debate heats up"
Be the first to comment below.