Colorado ski areas report 11.4 percent drop in skier visits
Colorado Ski Country USA (CSCUSA), the state ski industry lobbying group that represents 22 resorts, reported at its annual meeting in Boulder today that skier visits dropped by 11.4 percent last season compared to the 2010-11 season.
The 2010-11 ski season was the fourth best ever after record snowfall at most Colorado resorts. The 2011-12 season saw record low snowfall totals as a major snow drought gripped most of the state and the nation.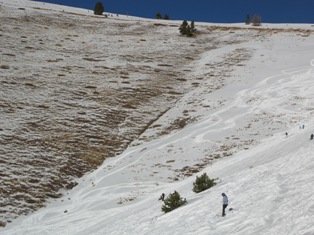 "Fortunately, seasons such as the one just ended have proved to be historically rare and the ski industry has exhibited a remarkable ability to bounce back after poor snow years in the past." CSCUSA President and CEO Melanie Mills said in a press release.
Vail Resorts, which owns Vail, Beaver Creek, Keystone and Breckenridge, does not belong to CSCUSA. Early last month, Vail Resorts reported at 12.6 percent drop in skier visits last season compared to the 2010-11 season. VR's numbers included its three California resorts: Heavenly, Kirkwood and Northstar. VR's Colorado resorts only dropped 8.9 percent season over season.
And Vail Resorts actually reported a 3 percent increase in lift ticket sales.
"This was one of the most challenging weather seasons in the history of the United States ski industry marked by historically low snowfall and one of the mildest winters on record," Vail Resorts' CEO Rob Katz said in a press release at the time. "In the face of these unprecedented conditions, we were very pleased with the resiliency demonstrated in our business."
Colorado's Western Slope experienced its third driest and seventh warmest winter dating back to 1895, according to CSCUSA, Precipitation on the Western Slope was 43 percent below average this past winter.
"Much of the ski industry in the U.S. was confronted with weather challenges last year, but several of our resorts bucked the national trend and showed signs of resilience during what was clearly an uninspiring winter," CSCUSA's Mills said.
---

5 Comments on "Colorado ski areas report 11.4 percent drop in skier visits"