Kids rally to protest hydraulic fracturing, gas drilling near Erie schools
Editor's note: This is the second in a multi-part series on hydraulic fracturing near schools. Read the first part here.
ERIE — With black whiskers painted across her cheeks, 6-year-old Olivia Cusimano roared into the plastic megaphone as if hers were the voice of the blue knotted-up balloon tiger she clutched beneath her left arm.
"Hey, hey! Ho, ho! These fracking wells have got to go!" she shouted as she led a parade of demonstrators through the streets on Saturday to protest Encana Corp.'s latest natural gas drilling project. The company has set up extraction operations in a prairie near two elementary schools, a middle school and a daycare.
"I think people will get hurt," Cusimano said in an interview (mp3). "I don't think it's a good idea."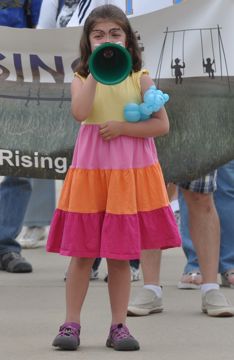 Her concern stems from the rising tide of information scientists are publishing about the impacts of hydraulic fracturing, or fracking. The University of Colorado-Denver School of Public Health recently released a study showing people who reside within a half-mile of oil-and-gas drilling were exposed to air pollutants five times above federal hazard standards. The researchers concluded that people living closer to natural gas wells had a greater risk of developing cancer.
Some of Cusimano's classmates stayed home from school last year with breathing and gastrointestinal problems their parents blame on pollutants from the hundreds of natural gas wells in the area.
Industry representatives maintain fracking is safe. They claim the protestors exaggerate.
Erie is an old coal town. Before it was incorporated in 1874, its coal fields powered steam engines. Mines in the area produced coal until the mid-1960s.
With its close proximity to Boulder, Denver and other Front Range communities, Erie's population has exploded in the last decade. Just over 6,000 people lived there in 2000. More than 19,000 people live there now. Paved streets, a high school, library and community center have all come to Erie in the last 12 years.
During that time, fracking — a process in which water, sand and chemicals are flushed through holes bored into the ground, releasing oil and gas buried in shale rock — also showed up in Erie and other resource-rich regions, ushering in a new age of domestic energy production. So while homes and schools popped up in Erie and across the state's other Front Range communities, so too did derricks and rigs tapping the natural gas deposits in the Denver-Julesburg Basin and the oil in the Niobrara formation.
The boom brought jobs as well as concerns about environmental impacts. Last year, the National Oceanic and Atmospheric Administration released a study showing propane levels in Erie are 10 times higher than those in high-extraction areas like Pasadena, Calif., and Houston, Texas. Erie responded with a 180-day moratorium on new permits.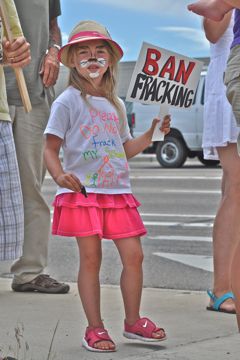 Before the temporary ban on new drilling took effect, Encana received permission to pump gas out of the Canyon Creek site, which has drawn the ire of residents already unsettled from the noise and increased truck activity in the neighborhood.
"Wake up neighbors! They are poisoning you!" one man yelled as scores of men, women and children winded through Erie's streets, carrying signs reading: "Our Children Are Not Your Science Experiment," "Don't Frack With Our Kids" and "Safe Fracking Is a Pipe Dream."
Lyzelle Roy, 4, sported a homemade T-shirt with drawings and a clear message: "Please Do Not Frack My School."
The uproar stems from the proximity of Encana's wells to schools in the area.
Red Hawk Elementary School, where Cusimano is in second-grade, lies a few hundreds yards from the Canyon Creek well site. Erie Elementary School, built in 1966, and Erie Middle School aren't far away either. Encana officials point out that they waited until the school year finished before they began working at the site, where they recently constructed a large sound barrier.
Demonstrators said that, while school is out for the summer, a youth football program will be held on campus in August. Teenage boys will be huffing and puffing in the shadow of the drilling.
Many Erie residents would like gas drilling to be relocated away from homes and schools. So far, they're not finding much sympathy from one of their congressmen, Rep. Cory Gardner. Flush with campaign cash from Halliburton, Exxon, Koch Industries, BP, Chevron, ConocoPhillips, the Interstate Natural Gas Association of America, the Independent Petroleum Association of America, Williams Companies and other fossil fuel corporations, Gardner has been a consistent critic of the Environmental Protection Agency and has worked to undermine laws that protect public health and nature.
A report commissioned by Democrats last December singled out Gardner, a Republican, as one of the main culprits in what it called "the most anti-environment House in the history of Congress."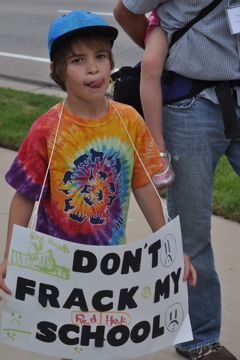 Cusimano — one of a growing number of children who are getting involved in the debate — has gone above Gardner's head. She appealed to the president.
"I want the drilling to stop but they won't listen," she wrote in a letter to President Obama on May 26. "I am sad about the fracking. ... It breaks my heart. I want you to come to Erie, Colorado, and ask all the oil and gas companies to leave. We can't continue to destroy the Earth."
Messages left with Encana and the Colorado Oil and Gas Association were not returned.
---

122 Comments on "Kids rally to protest hydraulic fracturing, gas drilling near Erie schools"