Koch land swap tainted by potential gas drilling, opponents say
Billionaire businessman Bill Koch organized a tour last fall for western Colorado residents to survey property he is offering in a multifaceted land swap that requires an act of Congress to complete.
The idea was to convince the public that a new ranch he'd acquired would make a fine substitute for a stretch of federal land that slices through his 5,000-acre paradise, where he is building his own private frontier-themed town complete with a saloon, train station, firehouse and as many as 50 buildings.
But no one bothered to mention that the land Koch is offering, Buck Ranch, could soon be flanked by gas wells and pipelines — hardly the ambiance sought by hikers, mountain bikers and ATV users.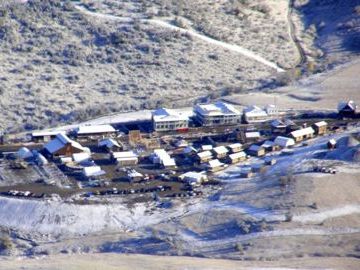 "There was absolutely no mention of gas wells. There was talk of how wonderful the trails would be and how they would put in a separate trail for the ATV users," Paonia resident Hal Brill, who went on the tour, said in a recent telephone interview. "They were trying to extoll the beauties of that place. Nothing was said at all about the potential for industrial-scale development."
Brad Goldstein, a spokesman for Koch and his coal company Oxbow Corp., said many properties in the area have mineral rights beneath the surface that the owner of the land does not control.
"We do not intend on taking any mineral rights in the land exchange. ... We intend to preserve all of our rights to use the surface of those lands for recreational purposes," he wrote in an email. "... Privately held conservation easements insure that if there is ever oil and gas exploration on Buck Ranch by another party, it cannot abrogate either the surface rights or the conservation rights."
Olivia Bartlett, stewardship director at Black Canyon Land Trust, which would enforce the terms of the conservation easement on Buck Ranch should the land swap be approved, said in a phone interview there is nothing to prevent drilling from occurring on certain portions of Buck Ranch. She said the property includes both severed private and public mineral rights beneath its surface.
The land swap is much bigger than just Buck Ranch. There's nearly another thousand acres in Dinosaur National Monument and in the Curecanti National Recreation Area that Koch is also throwing in the deal for what amounts to roughly 1,840 acres of federal land that bisects his remarkable retreat.
Koch bought the historic Colorado tourist town of Buckskin Joe two years ago and he has reassembled it at his Bear Ranch spread, a dozen miles upstream from his Oxbow coal mines. Koch — brother to billionaire oil barons Charles and David Koch — is an Old West fanatic known for his extraordinary collection of revolvers, wagons and other cowboy artifacts. He also owns homes in Aspen, Palm Beach, Fla., and Cape Cod, Mass., where he has been a vocal opponent of a proposed offshore wind farm.
Some residents on the Western Slope — Brill among them — believe John Salazar, a Democrat, lost the last 3rd Congressional District race to Scott Tipton, in part, due to the revelation that Koch, his wife and Oxbow donated a total of nearly $70,000 to the then-congressman's political war chest around the time that Salazar introduced a bill for a stripped-down version of the Bear Ranch land swap. Smaller amounts of Koch-related money went to the campaigns of Sen. Mark Udall, D-Colo., and Sen. Orrin Hatch, R-Utah, who co-sponsored the failed land exchange bill.
Whether a new bill will be introduced to get the land swap done this year is unclear. Commissioners in Gunnison and Delta counties have endorsed the deal. But opposition to the land exchange is fierce and Colorado's congressmen may not want potentially bad publicity in an election year.
A spokesman for Udall on Thursday said the senator was not planning any related legislation "at this time." A spokesman for Tipton did not immediately return a message seeking comment.
Nonetheless, Koch — who has directed at least $2 million to a super PAC backing GOP presidential candidate Mitt Romney — has mounted a publicity campaign to try to garner support for the land exchange. He is bankrolling robo-calls (mp3), color mailings and radio spots.
Critics of the swap have long contended the acreage Koch is offering the public is inferior to what he would be getting. Now there is the prospect of noisy compressors, air pollution, hazardous materials and traffic within earshot of the trails they've been offered. The master development plan submitted by Texas-based SG Interests that is under consideration by the Bureau of Land Management shows four wells perched immediately on the west boundary of Buck Ranch (pdf), and a pipeline that would run up the steep strip of land where there is an existing ATV trail.
Securing permits for the pipeline could be "extremely difficult" and its construction would be "very costly," according to Goldstein. "In this market of extremely low [natural] gas prices, such a project would be very uneconomical, "he wrote. "Our opponents are grasping at straws that do not exist."
Opponents, however, remain convinced that the offer of recreational trail easements on Buck Ranch is compromised by the natural gas drilling that is proposed in the BLM's preferred alternative.
"The economic argument provides little comfort," Brill said. "Economics of gas drilling will change. It is likely that the current low prices for gas are not going to last forever. Demand will rise as coal power plants and vehicle fleets convert to gas and liquefied natural gas exports ramp up."
---

255 Comments on "Koch land swap tainted by potential gas drilling, opponents say"