Obama bemoans 'mountains of debt' from student loans in speech at CU Boulder
BOULDER — President Barack Obama dropped into town Tuesday, swung by the Sink to pick up a pizza, and he tested out a young entrepreneur's
phone-controlled ball
on University Hill before imparting a few words of wisdom to 11,000 screaming students at the nearby Coors Event Center.
"I heard a rumor that Robert Redford used to work there," the nation's commander-in-chief said of the Sink, reminding everyone to "always be nice to your server, you never know where they'll end up."
Obama sported a white button-down shirt, striped tie and dark pants that survived an overly excited young woman's accidental spilling of purple yogurt on them outside of the Sink minutes earlier. The president was relaxed and in high spirits, joking with the crowd and boasting a big, beaming smile.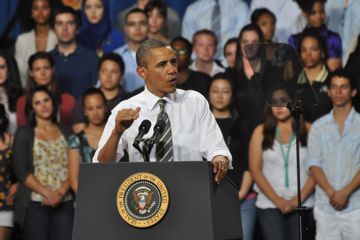 But his tone grew more serious as he launched into the speech he came to deliver: Keeping the subsidized Stafford loans from doubling from 3.4 percent to 6.8 percent on July 1. If Congress doesn't act by then, costs for 7 million undergraduates across the country will increase by an average of $1,000 a year.
The expense of education is near and dear to the president, he said, because he and the First Lady would not be where they are today without scholarships and student loans.
"When we gradated from college and law school, we had a mountain of debt, both of us. That means when we got married, we got poorer together," Obama said as the students giggled. "We added our assets together and they were zero. Then we added our liabilities together and they were a lot. We paid more for our student loans than we paid for our mortgage each month when we bought our small condo in Chicago. And we were lucky to land good jobs and good income, but we only finished paying off our student loans eight years ago. Think about that: I'm the president of the United States ..."
U.S. student loan debt is estimated at $1 trillion. It has surpassed credit card and auto-loan debt. A growing number of older Americans hold student debt, with 6.33 million people over the age of 50 reportedly owing $134 billion and 14.65 million people under the age of 30 owing $294.93 billion.
It is an issue that can transcend party lines. A poll last fall by Lake Research Partners and Bellwether Research showed 92 percent of young Democrats and 78 percent of young Republicans believe increasing financial aid and making loans more affordable for college would strengthen the economy.
But convincing Congress is another matter. Despite GOP presidential frontrunner Mitt Romney's support for holding the interest rates for Stafford loans, many Republicans are against it.
"Opponents of keeping student loan rates low are dumping an additional $1,000 of debt on the backs of more than 160,000 Colorado college students every year even as they just voted for $46 billion in new tax breaks for the wealthy that aren't paid for and that will increase the budget deficit," said U.S. Rep. Jared Polis, D-Colorado, who is calling for a bipartisan effort to keep student interest rates down.
Education has never been more important than now, Obama told the Boulder crowd.
"In today's economy there is no greater predictor of individual success than a good education. Right now the unemployment rate for Americans with a college degree or more is about half the national average. Their incomes are twice as high as those who have a high school diploma," he said.
"Our economy is recovering but it's not fully recovered from the worst economic crisis we've experienced since the Great Depression," he continued. "Our businesses have added more than four million jobs in the last two years. There's still too many Americans out there looking for a job."
Obama's visit to the university was the first by a sitting president in 58 years. The last and only other sitting president to visit CU was Dwight Eisenhower.
Students began lining up at 5 a.m. to hear the president's 30-minute speech, which started at about 7:15 p.m. Once they were allowed to pack into the auditorium that evening, they waited by doing the wave, chanting "four more years" and breaking into the occasional school fight song.
During the speech, there were spontaneous outbursts from the boisterous audience. One man hollered: "We believe in you!" Obama answered him, repeating "I believe in you" as the crowd roared.
At another point, when the president began to say "there is something we need to do right now," someone attempted to finish his sentence yelling: "Legalize it!" Obama ignored the comment, and continued on about the country's need to reduce student loan debt.
"I don't want this to be a country where a shrinking number of Americans are doing really well while a growing number are struggling to get by," the president said. "That's not the future I want for you. That's not the future I want for my daughters. I want this to be a country where everybody gets a fair shot. Everybody pays their fair share. Everybody plays by the same set of rules."
Throughout the day, campus was abuzz with talk of Obama. People lined the streets as the POTUS motorcade winded through the city. One man held a red sign reading "No Attack on Iran" and another woman waved a purple anti-drilling sign reading "Frack No." A pro-cannabis group also held a press conference, condemning the federal government's stiffening stance on the medical marijuana trade.
"The U.S. Attorney tells us he is planning to target nearly 200 legitimate Colorado businesses, which could cost the state over 1,000 jobs as Colorado is struggling to recover from a deep recession and get its economy back on track," said Aaron Smith, executive director of the National Cannabis Industry Association. "We are asking President Obama to do for employees of medical marijuana businesses what he does for employees of every other business: protect their jobs."
When the event ended, many of the students said Obama's speech resonated with them.
"I liked that he talked about his own experience with debt because it makes you feel like someone is going through it with you," said Haley Direnzo, a freshman at CU. "I took out loans this year so I'm going to have to continue to do it. I also want to go to law school so that's more on top of that."
Obama departed with a phalanx of suited men and women, rolling suitcases. A motorcade of black SUVs drove them to Boulder Municipal Airport where they departed in five double-rotor military choppers that flew in a V-formation and buzzed over neighborhoods on their way out of town.
Follow Troy Hooper on Twitter
---

133 Comments on "Obama bemoans 'mountains of debt' from student loans in speech at CU Boulder"