Tipton blasted for raking in campaign cash from big energy companies
A campaign reform group skewered U.S. Rep. Scott Tipton last week for continuing to rake in big bucks from special interest groups and voting for oil and gas projects that could financially benefit him.
Public Campaign
, a nonprofit watchdog in Washington, D.C., noted that 30 percent of the $378,927 that Tipton, R-Colorado, reported raising in the first quarter of 2012 came from corporate political action committees (PACs) and party committees. Less than 14 percent of money the congressman raised in the first quarter came in donations of $200 or less, Public Campaign reported.
Tipton currently represents Colorado's 3rd Congressional District, which includes most of the state's energy rich Western Slope. Under recent redistricting, CD3 will include the western half of Eagle County, while the eastern half will still be included in CD2 -- currently represented by Boulder Democrat Jared Polis.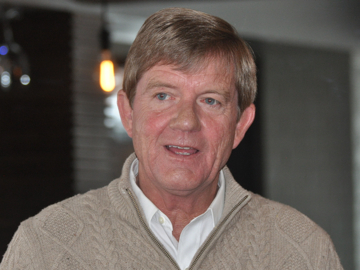 Oil and gas industry PACs handed over thousands in contributions to Tipton, including checks from Chevron ($3,000), Koch Industries ($2,000), BP ($1,000), and Valero ($1,000). Tipton also received mining industry money from the PACs of Arch Coal ($2,000), Freeport McMoran Copper & Gold ($2,000) and Oxbow Carbon ($1,000) owned by Bill Koch, who is slightly less infamous than his brothers Charles and David who run Koch Industries. The Kochs also funded Tipton's previous campaign.
Moreover, the congressman voted for the Keystone XL pipeline last week, despite a 2011 disclosure that he and his immediate family own a portfolio of oil and natural-gas stocks and assets worth between $267,014 and $755,055, including stakes in both Exxon and Royal Dutch Shell, two companies that have lobbied for the approval of the Keystone pipeline and fast-tracking oil shale development.
"Scott Tipton hauled in money from Big Oil, the mining industry, and lots of special interests. He raised more money each week, on average, than many Coloradan families make in a year," said David Donnelly, national campaigns director at Public Campaign, noting Tipton averaged $31,600 in fundraising a week.
"If he's spending time courting Big Oil, who's looking out for his constituents?" Donnelly asked.
Messages left for Tipton's spokesman were not returned.
Ever since replacing former Rep. John Salazar, Tipton has aggressively pursued oil and gas drilling and worked to weaken regulations that protect the public's health and environment.
His zeal for industry is award-winning: The U.S. Chamber of Commerce, a right-wing outfit representing more than 3 million businesses that is often criticized for a perceived pro-pollution agenda, recently presented him with the Spirit of Enterprise Award for his pro-growth policies.
After accepting the award, Tipton went back to the capitol acting as if he wanted to win another one.
Just last week, the congressman unveiled a series of bills to expand oil and natural gas production, including one, HR 4381, that would require Interior Secretary Ken Salazar to conduct new lease sales in areas identified with the greatest energy potential and remove regulatory "delays and hurdles."
The congressman crowed about HR 4381, which he is sponsoring, in a prepared statement, saying it would ensure "the nation's energy needs are met … with a true all-of-the-above approach that will lower the cost of energy, jumpstart economic recovery, and get Americans working."
The bill would mandate the Interior Department develop a new energy development plan every four years but it "sets the table against renewable energy from consideration" and it "ignores market forces by requiring arbitrary 'necessary actions' to facilitate energy development on the public lands," according to Matt Garrington, the Colorado-based co-director of The Checks and Balances Project.
"It's painful to watch members of Congress so blatantly pander for oil and gas lobby dollars," he said.
Tipton is fighting for his political life in the sprawling 3rd Congressional District as he faces State House Minority Leader Sal Pace, a thirty-something Democrat trying to make the leap from state to federal policy-making. The Democratic Congressional Campaign Committee named Pace among 18 candidates best positioned to convert seats in the Republican-controlled House of Representatives from red to blue in November. The contest will be watched across the nation.
---

22 Comments on "Tipton blasted for raking in campaign cash from big energy companies"