Boulder fire fans flames of climate change, beetle kill controversy critical to Vail Valley
As Udall fights for funding, Vail Valley's state senator White questions just how much can be done
As strong winds whipped up again overnight in the Boulder area, where a Colorado record 169 homes have already been destroyed in the ongoing Fourmile Canyon Fire, there's also a growing firestorm of debate over how climate change contributes to wildfires across the West and the beetle kill epidemic surrounding Vail.
Touting a new Environment Colorado report entitled Global Warming and Extreme Weather: The Science, the Forecast, and the Impacts on America," Boulder Mayor Susan Osborne said in a release: "In light of the Fourmile Fire, this report could not be timelier. Global warming may not be the cause of the fire, but if we do not act soon, we are likely to see more fires throughout Colorado."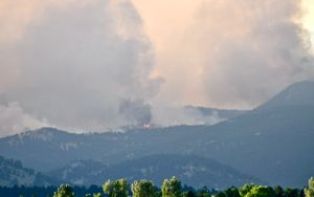 The
report concludes
lower snowpack, less overall precipitation and increased temperatures will directly lead to more wildfires in Colorado. Other studies have found insect epidemics spurred on by warmer temperatures and drought will also up the fire risk.
A
new report conducted by the Forest Service
and published in the
journal Bioscience
links climate change to an increase in spruce and mountain pine beetles, which have killed more than 2 million acres of trees in Colorado and Wyoming in recent years. The bugs thrive in warmer temperatures.
U.S. Sen. Mark Udall, a Democrat whose home is just south of Boulder in Eldorado Springs, has been pushing hard for more federal funding to help the Forest Service and other federal, state and local agencies clear dead and dying trees away from communities, water storage facilities,
power lines and other key infrastructure
.
Udall already this year has
steered $30 million to the Forest Service
and other federal agencies to clear about 14,000 acres of dead trees near
communities and more than 350 recreation sites in Colorado (map
). And now he's pushing for $50 million more through his National Forest Insect and Disease Emergency Act, which passed out of the Senate Energy and National Resources Committee but still needs full Senate approval.
"Wildfire is a threat Colorado communities face, in part because of the damage the bark beetle epidemic has inflicted on millions of acres of trees,"
Udall said on his website
. "I'm not going to rest in my efforts to secure additional funding and support to reduce the wildfire threats throughout Colorado."
But there is ongoing debate on just how much more susceptible forests are to wildfire in the wake of the naturally occurring beetle kill epidemic and
just how deep into the forest clearing of dead trees should occur
. Some environmentalists, scientists and politicians want to limit that clearing to areas directly adjacent to communities, especially if new road building is required.
"Millions of acres are beetle infected and to get in there and to clear and thin beetle-killed trees is just a herculean effort, and I don't know that our federal treasury has enough money to do that or that any governmental entity could undertake such a task," said state Sen. Al White, R-Hayden, whose Senate District 8 includes Vail and has been one of the hardest hit by the epidemic.
White has been frustrated by the slow reaction of the federal bureaucracy to the latest outbreak, which began in earnest in the mid to late 1990s, but now he says nature may have to just run its course in some areas away from towns and key infrastructure.
"This is just a catastrophe of nature, and the best thing you can do is deal with it as best you can, and probably what that means is private property owners trying to create defensible space around their houses and out buildings and keep our fingers crossed," he said. "I know that sounds a little fatalistic, but that's pretty much the reality of it."
Dr. Barry Noon, a professor of wildlife ecology at Colorado State University, argues against much more than a 100-foot buffer zone around private property.
"If the goal is to protect homes, I would focus the creation of the defensible space very locally. I know of no evidence that would argue that it needs to be more than a mile or beyond 40 meters for that matter,"
Noon told the Colorado Independent earlier this year
.
In Vail, where Fire Chief Mark Miller has his crews thinning a 150-foot defensible perimeter around the town, the beetle kill wildfire threat is being taken very seriously.
"There are some different studies that show beetle kill doesn't burn any worse and we're no more susceptible than we are with green forest. However, that's not necessarily the case," Miller said. "Beetle kill stands can burn with more intensity than live trees and they have the tendency to put off a lot more spot fires."
The beetle kill epidemic is moving slowly east toward the Front Range but hasn't yet hit the Boulder area nearly as hard as Grand County, which is just to the west over the Continental Divide. But a wet spring and summer created plenty of vegetation that dried out during recent warm, dry weather in Boulder. High winds on Monday did the rest, quickly spreading the Fourmile Fire to more than 6,000 acres.
That's a small area compared to the state's largest ever wildfire – the 138,000-acre Hayman Fire along the Front Range south of Denver in 2002 – but the Boulder blaze has destroyed more homes now than Hayman, and firefighters are very worried it will flare up again today before winds die down again over the weekend.
There are several new tools for tracking the Fourmile Fire, including
an aggregate Google map
launched Wednesday to allow residents and the general public to track and post fire updates, closure areas and photos of property damage and destruction. It's being moderated and requires sourcing.
Project Epic
, a joint scientific project of the University of Colorado at Boulder and the University of California, Irvine, is
mapping tweeted reports
from the Fourmile Canyon Fire.
---

656 Comments on "Boulder fire fans flames of climate change, beetle kill controversy critical to Vail Valley"