Soelden, Austria, opens Friday to kick off 2010-11 ski season in Europe
Which Colorado resort will be first in state and possibly North America?
The ski and snow-tracking website Skiinfo Thursday reported Soelden, Austria, officially kicks off the 2010-11 ski season with its opening on Friday, although some of the glacial Austrian areas like Tux and Molltal are still open from the previous season, albeit with extremely variable conditions.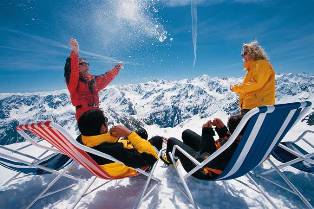 The Schwarze Schneidbahn and Kaleskogl lifts will be in operation Friday on Soelden's Rettenbach glacier when the area opens several weeks ahead of schedule and about a month before Arapahoe Basin will likely open in early October to become the first ski area in Colorado – and possibly North America – to open for the 2010-11 ski season.
If Soelden sounds familiar, that's where the World Cup alpine ski racing season gets going every year, with a men's and a women's giant slalom scheduled for Oct. 23-24 this season.
Meanwhile, International Ski Federation (FIS) officials, Tridem Sports representatives and members of the European Broadcasting Union (EBU) have been in Vail and Beaver Creek since Wednesday, checking out the venues for the 2015 World Alpine Ski Championships. It's apparently never too early to start prepping for a major international sports competition.
"While we are still four and a half years out from the Championships," Vail Valley Foundation president Ceil Folz aid in release, "the Coordination Commission meetings are extremely important as they will establish the groundwork for how we work with our FIS, EBU and Tridem Sports partners to ensure that the 2015 World Championships are the best they can possibly be."
After another mixed men's and women's race in Levi, Finland, in mid-November, the women, including Vail superstar Lindsey Vonn, will race at Aspen Nov. 27-28, their only U.S. appearance.
The men, after appearing in Lake Louise, Canada, over the Thanksgiving weekend, will be in Beaver Creek for the annual Birds of Prey downhill, super-G and giant slalom Dec. 1-5. Their only U.S. appearance, it may be one of the last chances to see gold medalist Bode Miller race in a World Cup.
For recreational skiers in Colorado, A-Basin beat Loveland with its earliest every opening ever on Oct. 9 last year, so snowmaking may crank up soon – temperatures permitting. But Vail Valley residents and Front Range and international fans of Vail and Beaver Creek will have to wait till Friday, Nov 19, for Vail's opening and Wednesday, Nov. 24, for Beaver Creek's opening.
---

529 Comments on "Soelden, Austria, opens Friday to kick off 2010-11 ski season in Europe"