Vonn says she's chasing men's ski-racing records, not Tebow brothers
Olympic great talks up Ski Girls Rock program at Vail
Ski racer Lindsey Vonn wasn't really in the mood to talk about boys at her homecoming in Vail over the weekend. The Olympian brushed aside persistent questions about her relationship with the Tebow brothers and instead focused on her "Ski Girls Rock" program.
"No, we're just friends," Vonn said Sunday when asked if she's dating Robby Tebow, older brother of New York Jets quarterback Tim Tebow. The 27-year-old gold medalist added she isn't dating anyone right now.
In an Access Hollywood television interview airing this week, Vonn said she was surprised by the Tebow rumors that cropped up late last year after she filed for divorce from her combination husband, coach and personal manager, Thomas Vonn.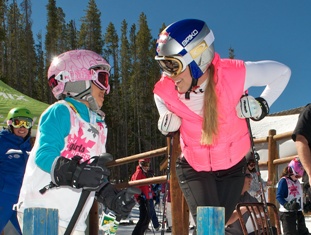 Lindsey Vonn fueled that fire by prayerfully dropping to one knee after winning a race at Beaver Creek in December – a move known globally as "Tebowing." Robby Tebow was in attendance. She later wrote a column in the Denver Post denying the Tim Tebow rumors, saying she's just a friend of the family and, "I really get inspired by other athletes."
Indeed, on her Facebook page last week Vonn posted a picture of herself with Los Angeles Clippers basketball superstar Blake Griffin, a fellow Red Bull-sponsored athlete. Asked over the weekend if she would become a New York Jets fan after the trade of Tim Tebow, Vonn said she would remain loyal to his former team, the Denver Broncos, but would watch the Jets with more interest.
Since her separation from her husband of four years, Vonn has reportedly reconnected with her estranged father and grown closer with her teammates on the U.S. Ski Team. She also shook off all of the distractions and various injuries and enjoyed one of the best seasons ever by an American ski racer, winning the World Cup overall championship for a record fourth time.
Vonn talked about her advice for the young female racers in the "Ski Girls Rock" program at Vail: "There's a lot of setbacks that a lot of Olympians have and a lot of circumstances that don't necessarily help build an athlete, but you can overcome that if you have the will."
Vonn's will to win has become legendary. Only four racers historically – two men and two women – have more wins than the 53 Vonn has racked up over the past decade, and 10 more victories next season would make her the most successful female ski racer of all time.
Then she'll only be chasing the men's records.
"That's definitely something to look forward to in the future, but right now my goals are just to try to keep winning … I don't know if it's feasible to be able to break those records or not," Vonn said of Ingemar Stenmark's all-time mark of 86 careers wins. In December, she made it clear she was pleased to "ski like a guy" and win on the men's course at Beaver Creek.
But for now, her youth mentoring program will focus only on girls.
"In the future, I'm definitely going to be looking at trying to make a boy's program as well, but having a girl's program was a great way to start and obviously something I'm really passionate about," Vonn said after skiing several runs with some of the Ski Girls Rock participants.
"Sometimes when you mix girls and boys into ski school … girls are shy and it can be tough to interact," Vonn said. "So that's why I wanted to do mainly a girl's program first and have them have an opportunity to have fun and be themselves and not worry about showing off for the boys or whether there's cooties or not."
Vonn has also become known as a legendary gym rat, spending hours a day lifting weights and working out. She warns against girls starting such a regimen too early.
"I started working out when I was about 12 or 13, but I was mostly just doing running, pushups and sit-ups," Vonn said. "It's just important for the girls to have general strength. I do not recommend doing weightlifting or anything like that. It's just important that they're active."
Vonn's conditioning has been a key factor in her success. Shattering all of ski racing's most hallowed record will come down to whether she can stay healthy. On Monday in Vail, Vonn was examined by Dr. William Sterett, who found some fraying of the meniscus cartilage in her left knee but recommended rest instead of surgery.
---

201 Comments on "Vonn says she's chasing men's ski-racing records, not Tebow brothers"