Havasupai tribe, green groups join to defend fed's ban on new uranium mining near Grand Canyon
A coalition of conservation groups and a Native American tribe are backing the U.S. government in its battle to block new uranium mining in Arizona's iconic Grand Canyon.
Arizona's Havasupai Tribe, the Grand Canyon Trust, Center for Biological Diversity, Sierra Club and National Parks Conservation Association filed a motion to intervene Monday in Gregory Yount's lawsuit against the U.S. government's 20-year ban on new uranium mining on federal land around the Grand Canyon and its lifeblood, the Colorado River. The move comes just weeks after the Nuclear Energy Institute and the National Mining Association joined Yount in
suing to reverse the ban (pdf)
.
U.S. Interior Secretary Ken Salazar announced a moratorium Jan. 9 on new hard-rock mining claims affecting about 1 million acres of land adjacent to the national park.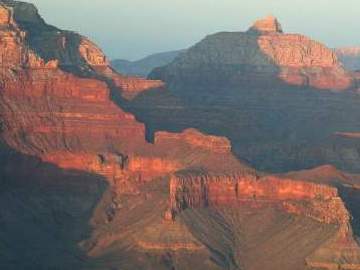 "Tourism, not mining, is the mainstay of the region's economy," said David Nimkin, regional director of National Parks and Conservation Association. "Millions enjoy the Grand Canyon each year and power the economic engine for much of the Southwest's tourist industry. The last thing visitors want to find when visiting the Grand Canyon is industrial development and uranium mines."
Uranium mining already occurs in the Grand Canyon region. The new Department of Interior rule prohibits new mining claims and mine development on existing claims without valid permits. It came at the recommendation of a 700-page environmental impact evaluation the Bureau of Land Management undertook. Yount's lawsuit alleges the evaluation was inadequate.
Without a ban, the BLM study warned that 26 new uranium mines and 700 uranium exploration projects would be developed, resulting in over 1,300 acres of surface disturbance and the consumption of 316 million gallons of water. Officials have said new uranium mining would increase the potential for depletion and contamination of aquifers.
"Uranium mining imposes well-documented and unacceptable risks to the people and natural resources of our region," said Grand Canyon Trust program director Roger Clark. "The lawsuit demonstrates how little industry cares about strong opposition expressed by community, tribal, and business interests and the many negative consequences that thorough impact studies show are associated with rampant industrialization of Grand Canyon's watersheds."
The environmental groups said they would also defend the U.S. government against a suit filed late last month by the Nuclear Energy Institute and the National Mining Association.
A symbol of the American West, the Grand Canyon region attracts about 5 million tourists and recreationists per year. President Theodore Roosevelt first protected it in 1908.

A resurgent interest in uranium mining in the Southwest sprung up several years ago when prices spiked in anticipation of new nuclear power reactors to replace coal-burning ones amid growing concerns about carbon emissions and climate change. The Fukushima Daiichi nuclear power plant disaster in Japan last year had a chilling effect on the industry but uranium prospecting continues.
---

11 Comments on "Havasupai tribe, green groups join to defend fed's ban on new uranium mining near Grand Canyon"