Vonn powers to record 12th win, closes in on Maier's World Cup points mark
Vail's Lindsey Vonn broke her own American record today with her 12th World Cup victory of the season in the final downhill in Schladming, Austria. The win was the 53rd of her career and pushed her well within reach of Hermann Maier's World Cup record of 2,000 points in a season.
"Today was a big step and, if all goes perfectly well, hopefully tomorrow I can win again and try to close this record and reach a dream I didn't even think was possible," Vonn said after officially claiming the downhill globe she unofficially wrapped up a month ago in Sochi, Russia.
"Everything has gone so well this year," said Vonn, who already has mathematically locked up her American record fourth overall title. "I can't help but smile every day. Being able to ski and do what I love is amazing, but having the support of the team and everyone has been even more amazing. I have such great teammates and such great coaches, and I feel like we are all working so hard together."
Squaw Valley's Julia Mancuso (6th) and Glenwood's Alice McKennis (7th) both joined Vonn in the top 10. France's Maria Rolland was second, and Slovenia's Tina Maze was third.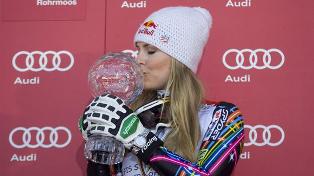 Vonn's 12th World Cup win this season breaks her own career high and American record of 11 set in 2009-10. It also gives her 1,908 points for the season, just 62 behind Janica Kostelic's record of 1,970 points in 2006 and 92 behind Maier's 2,000-point record in 2000.
After the race Vonn officially received her record fifth consecutive World Cup downhill crystal globe, which she secured a month earlier on the 2014 Olympic course in Rosa Khutor, the alpine skiing venue for the Sochi, Russia, Games in 2014.
Today marked Vonn's 17th podium of the World Cup season, one short of the single-season record of 18 held by Hanni Wenzel of Lichtenstein and Pernilla Wiberg of Sweden.
A win in Thursday's super-G will shatter a number of new records for Vonn, a Ski and Snowboard Club Vail athlete who has a trail named for her on Vail Mountain.
"I love hearing the national anthem," Vonn said. "It always means something special to me. I feel like I have heard the national anthem a lot this year and it has been great." One of Vonn's 12 wins this season was on the men's Birds of Prey downhill course at Beaver Creek in December.
Vonn is just two races shy of Swiss great Vreni Schneider for second place on the all-time career victory list. Schneider, who also holds the single season mark of 14 wins, is second on the career list with 55 victories. Austria's Annemarie Moser-Proell holds the all-time career mark with 62 wins. But both Schneider and Moser-Proell have long since retired, and Vonn just seems to be getting stronger and stronger at age 28.
The only active racer close to Vonn on the career victory list, Swedish legend Anja Paerson, recently announced she's retiring after this season. Paerson leaves the sport with 42 career wins.
On the men's side, Klaus Kroell of Austria won the World Cup downhill title in front of his hometown crowd with a seventh-place finish today. Norwegian Aksel Lund Svindal won the race.
Kroell took the season-long title by just seven points over Switzerland's Beat Feuz, who was second on the day. With the finish in sunny Schladming, Fuez added to his World Cup overall lead and will carry a 135-point lead over Austria's Marcel Hirscher into the final three races.
---

4 Comments on "Vonn powers to record 12th win, closes in on Maier's World Cup points mark"