Recent storms improve skiing, increase snowpack, but forecasts call for sunny, dry spell
Recent snowfall (19 inches last week in Vail) has pushed snowpack in the Upper Colorado River Basin to 80 percent of normal and dramatically improved skiing conditions in the northern and central mountains of Colorado. But forecasts through the middle of March show the snow machine grinding to a slow halt.
A cut-off southern storm may produce a few inches of new snow tonight for ski areas from Aspen to Summit County, but then things warm up and dry out significantly for the weekend – a trend that will likely continue through most of
next week
.
Spring breakers will find plenty of sunshine and decent coverage at most local ski resorts, but powder hounds will have to wait. Recent snow finally pushed Vail over the 200-inch mark for the season last week, but with a little over a month left in the current ski season, more than 140 inches will be needed to hit the seasonal average of 350 inches.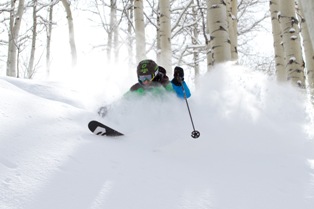 "Colorado will be mostly dry with winds from the southwest [next week]," according to
Opensnow.com
. "There's a good chance of some type of storm around March 17, but most of the models show this as another cut-off low, so anything can happen and it's nearly useless trying to predict the exact track of this storm so far away."
Since mid-January, skiing conditions have improved significantly after a record dry spell in November and December. However, according to the
U.S. Bureau of Reclamation
, the Upper Colorado River Basin still only has 80 percent of its average annual snowpack.
Arapahoe Basin
ski area in Summit County, in announcing its Spring 3 Pass for $148 on Tuesday, also reported that it won't try to stay open past early June. Last season, with record snowfall at most Colorado resorts, A-Basin operated on weekends through the Fourth of July weekend.
In terms of temperatures, Colorado has been "near normal" this winter, while most of the rest of the United States has been well above normal. The National Oceanic Atmospheric Administration (
NOAA
) today announced this was fourth warmest winter (months of December, January and February) on record in the lower 48 states.
---

2 Comments on "Recent storms improve skiing, increase snowpack, but forecasts call for sunny, dry spell"