Vail fire chief warns Boulder blaze a cautionary tale about wildfire complacency
Vail Fire Chief Mark Miller was driving on I-76 on the Front Range Tuesday, talking to Real Vail on his cell phone and watching the huge smoke plume from Boulder County's devastating Fourmile Canyon Fire.
"It's sobering and it's a stark reminder that fall does not mean that the wild-land fire threat is over," Miller said, adding that residents of Vail and surrounding Eagle County need to be on high alert. "It's a situation where it's easy to get complacent and say, 'Well, fall is here, temperatures are cooler' … but at the same time, we've got pretty ripe conditions for a wildfire."
A dry September following a wet summer has produced lots of prime fuel for wind-driven wildfires like the one still raging just outside of Boulder.
According to Gov. Bill Ritter's office, the Boulder County fire had burned more than 7,100 acres by Tuesday afternoon, destroying dozens of structures (including the homes of nine firefighters), threatening 500 others and forcing the evacuation of 1,000 homes and 3,500 residents. No deaths or injuries had been reported.
The fire may have been caused by a vehicle crashing into a propane tank,
according to a 911 recording released Tuesday
.
Ritter toured the area Tuesday and issued an emergency disaster declaration authorizing $5 million in state aid to help pay firefighting costs and directing the state to seek additional federal funds if needed.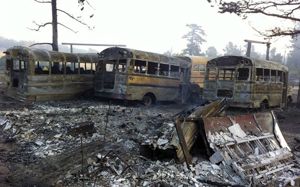 On the Front Range for a leadership class, Miller, who spent much of his firefighting career in Loveland, said he is not actively helping with the Boulder blaze, although he'd like to be. Instead, he's trying to get the word out that Vail residents need to be ready by having an evacuation plan, signing up to receive emergency alerts to cell phones and e-mail at
www.ecalert.org
and keeping important documents and valuables in one place.For a suggested list of things to take in the event of a hasty evacuation, go to
www.ready.gov
, and for more on the town of Vail's emergency evacuation plan, go to
www.vailgov.com/evac
.
Miller said the speed with which Monday's wildfire sprang up in Boulder County was no surprise to anyone watching the hot dry weather conditions over the Labor Day weekend.
"It was a red flag warning day [Monday], which means all conditions are ripe for an intense wildfire, and then of course with the winds at 45 to 50 mph, it was kind of like the perfect storm," Miller said.
While the canyons west of Boulder haven't been hit as hard as the Vail area by the state's ongoing mountain pine bark beetle epidemic, which has killed more than 2 million acres of lodgepole pine trees statewide, it is rugged terrain with a history of hot and dangerous wildfires.
"We have done a lot in this area over the last couple of years to provide fire mitigation, clearing [vegetation] around properties, so we'll see what the results are," Ritter said during a press conference after Tuesday's tour of the Boulder fires,
according to the Colorado Independent
.
Sen. Mark Udall, who lives in nearby Eldorado Springs south of Boulder, praised Ritter's quick reaction and the availability of federal emergency funds, and he took the opportunity to continue to push for more mitigation funding and resources to be directed to parts of the state ravaged by beetle kill. His National Forest Insect and Disease Emergency Act still needs the approval of the full U.S. Senate.
"I will not rest in my efforts to secure additional funding and support to reduce the wildfire threats from dry, dense trees along the Front Range and throughout Colorado — as well as respond to the bark beetle threats," Udall said in a release.
Miller said Vail, in conjunction with the U.S. Forest Service, Holy Cross Energy and other jurisdictions, has been hard at work this summer continuing to clear defensible space in the national forest surrounding the town.
"We've actually cut more trees this year than we did last year and we're continuing to plug along on creating that defensible space and also trying to make people aware that beetle kill stands can burn with more intensity than live trees and have a tendency to put off more spot fires [that leap ahead of the main fire]," Miller said.
Efforts in the Vail area have also focused on power lines, where the local utility, Holy Cross, has taken the lead.
"Especially in West Vail, there were a lot of trees that were right in power lines that were actually arcing, believe it or not, because the lines were resting on branches and it was really causing a significant potential for fires to start," Miller said.
---

450 Comments on "Vail fire chief warns Boulder blaze a cautionary tale about wildfire complacency "