Udall floats plan for new national monument, more mountain wilderness in Eagle, Summit, Pitkin counties
FRISCO — Saying the economy is intrinsically intertwined with the environment, U.S. Sen. Mark Udall rolled out a proposal Sunday to designate 236,000 acres of new wilderness in central Colorado and establish a 20,000-acre national monument along the Browns Canyon stretch of the Arkansas River.
He called on the public to help him craft a pair of public-lands bills.
In the first — the Central Mountains Outdoor Heritage Act — the Democratic senator wants to consider 32 pockets in Eagle, Pitkin and Summit counties for wilderness protection, many of them additions to Holy Cross, Eagles Nest and Maroon Bells-Snowmass areas. Udall said he envisions a bill that would foster "a world-class destination for
outdoor recreation
while protecting pre-existing uses," such as the Colorado National Guard's high-altitude helicopter training area.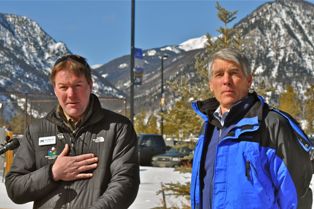 Draft maps for the proposal are largely based off of Eagle and Summit County wilderness plans that U.S. Rep. Jared Polis, D-Colorado, submitted to the House two years ago, along with input regarding Pitkin County from Carbondale-based Wilderness Workshop. The three counties comprise a veritable paradise for skiers, hikers, cyclists, mountain bikers, snowmobilers, hunters and fishermen.
"Many of these areas have been exhaustively vetted and debated," Udall said.
The second bill — the Arkansas River Canyon National Monument and Browns Canyon Wilderness – borrows from former U.S. Rep. Joel Hefley, R-Colorado, in identifying wilderness on both sides of the iconic river between Salida and Buena Vista in south-central Colorado. Hefley introduced a similar bill in 2006 but the legislation didn't get very far. Hefley's successor, Rep. Doug Lamborn, abandoned the plan.
"A national monument designation would put a star on the map, drawing more visitors to the area's world-class river rafting and outdoor recreating activities and support our local tourism economy," Udall said against a backdrop of blue skies and snow-covered mountains.
As he spoke, cross-country skiers snaked around a meadow in the distance. Giggling children raced inner tubes down a nearby hill. And snowboarders in SUVs passed by on their way to Breckenridge.
"The outdoors is an important part of our quality of life here in Colorado," Udall continued. "For many outfitters and small business owners the preservation of our state's majestic mountains and valleys is vital for their livelihoods." He called for "a collaborative community driven process."
Eagle County Commissioner Jon Stavney, Summit County Commissioner Dan Gibbs and Breckenridge Mayor Dr. John Warner also spoke in favor of protecting more of Colorado's rugged landscape, and they emphasized how it serves as the backbone of their economies.
"Future generations will ... judge our wisdom by the places we protect," Stavney said.
As a member of the Senate's Subcommittee on National Parks and co-chairman of the Outdoor Recreation Caucus, Udall plans to leverage his leadership "to take this [proposal] to the next level."
Getting Colorado's conservative congressmen on board could prove difficult. Not only did Lamborn fail to see Hefley's vision through, he and U.S. Reps. Scott Tipton, Cory Gardner and Mike Coffman have a history of voting against public land protections and for allowing GOP-friendly industrialists to mine minerals and harvest forests.
Udall does have the assistance of Sen. Michael Bennet, D-Colorado, who revived a plan to better protect public land in the San Juan Mountains with Udall in September. That bill, which would declare roughly 61,000 acres of southwestern Colorado as federal wilderness or special management areas, had died in the 111th Congress.
"Coloradans want to preserve their quality of life and their opportunities," said Rep. Diana DeGette, D-Colorado. "With efforts in the U.S. House and now the U.S. Senate, our state's precious lands are that much closer to being protected. I look forward to working with Senator Udall to set forth a balanced approach to protecting some of the last remaining wild places in Colorado."
The Department of Interior also supports several aspects of Udall's plan.
Udall said it could take several months, or longer, before legislation is introduced in the Senate.
"I don't have a deadline. Of course if we're standing here 10 years from now, we've fallen short."
---

3 Comments on "Udall floats plan for new national monument, more mountain wilderness in Eagle, Summit, Pitkin counties"