Western Slope water watchers applaud latest federal rejection of Flaming Gorge pipeline
A second blow was dealt Thursday to a proposal to construct a 501-mile pipeline from Wyoming's Flaming Gorge to Colorado's Front Range when the Federal Energy Regulatory Commission (FERC) deemed the application premature. Opponents quickly questioned how Colorado leaders could take the project seriously considering the Army Corps of Engineers rejected an earlier application.
"Our region's economy depends upon river flows that can support recreation and tourism," said Arvin Ramgoolam, owner of Rumors Coffee and Townie Books in Crested Butte.
"The state should be working to protect and promote jobs out here rather than pursuing dead end projects that will rob the resources on which our jobs depend," Ramgoolam said.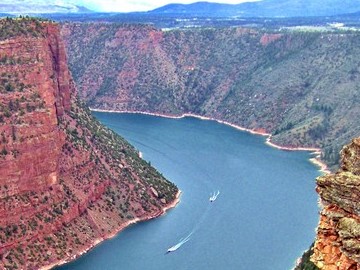 The Colorado Water Conservation Board recently funded a "project exploration committee" that is considering the Flaming Gorge pipeline. The task force held its first meeting Jan. 12 in Silverthorne, and is scheduled to continue meeting to discuss the pipeline through the end of the year.
Aaron Million, president of Wyco Power and Water Inc. in Fort Collins, remained undeterred and said he plans to improve the application and resubmit it to FERC for approval.
The multi-billion-dollar project would suck 240,000 acre-feet of water a year from Flaming Gorge Reservoir, along the border of Wyoming and Utah, and ship it to Colorado's increasingly thirsty Front Range. An acre-foot of water is about enough for two families to live off of for a year.
The proposal requires FERC approval because it is being pitched as part of a hydropower system but opponents have argued that pumping the water over the Continental Divide to reach Colorado's sprawling cities along the Front Range would ultimately spend more energy than the project would produce.
Critics say the pipeline would drain 81 billion gallons of water each year from the Green River, a tributary of the already stressed Colorado River, and the state of Colorado projects the pipeline could cost as much as $9 billion to build, though other estimates have come in much lower.
A Western Resource Advocates study said the pipeline would deprive the Green River of almost a quarter of its flow, and result in a $58.5 million annual loss to the region's recreation economy. The same study said it would produce the most expensive water ever seen in Colorado.
Protect the Flows, a coalition of over 370 businesses who depend upon the Colorado River system, says it is rounding up resolutions opposing the pipeline from local governments. "This is a victory for Colorado's economy, the West Slope's Economy, water users and our communities. It's time to get past this proposal once and for all," Mesa County Commissioner Steve Acquafresca said.
---

290 Comments on "Western Slope water watchers applaud latest federal rejection of Flaming Gorge pipeline"