GOP-controlled House picks unproven oil shale production over thriving wind-energy sector
A bill designed to encourage oil shale development cruised through the House on Thursday evening. But a wind production tax credit didn't fly, and now layoffs and abandoned projects loom.
The Republican-controlled House approved U.S. Rep. Doug Lamborn's bill to increase oil shale development on public lands in addition to plans to drill onshore in the Arctic National Wildlife Refuge and offshore in the Atlantic, Pacific and Gulf of Mexico waters. But the representatives didn't stop there. They also voted to try to force the approval of the
Keystone XL oil sands pipeline
.
The energy package passed 237-197 with 21 Democrats joining the GOP majority and an equal number of Republicans siding with the minority. It will now go to the Democrat-controlled Senate.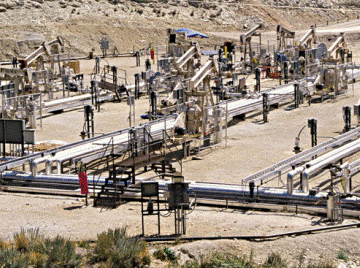 Oil shale is a commercially unproven commodity. It requires immense quantities of water and energy to heat the rock. Its ominous history is epitomized by "Black Sunday" when ExxonMobil pulled the plug on a huge oil shale operation in western Colorado in 1982 that left the region in disarray.
House Speaker John Boehner, R-Ohio, bundled the energy bills into a broader transportation package, most of which still hasn't made it out of the House. Despite a century of failed efforts to make oil shale profitable, along with a Congressional Budget Office report that projects oil shale leases will total less than $100,000 annually over the next decade, Boehner has said energy drilling will fund his $260 billion transit package. The Congressional Budget Office report, however, projected Boehner's bill would, over 10 years, leave the highway trust fund $78 billion in the red.
"Oil shale will not fund a single road or bridge repair," said Matt Garrington, the Colorado-based deputy director of the Checks and Balances Project. "I'm afraid the Speaker and Rep. Lamborn have sold Congress on a plan that will actually increase the national deficit. Oil shale is a failed resource which will generate zero revenues, and Americans will have to pay the price."
Whereas Lamborn's bill authorizes up to 2 million acres of public land for oil shale exploration in Colorado, Utah and Wyoming, the Bureau of Land Management recommends a half million acres be set aside for leasing.
U.S. Reps. Diane DeGette and Jared Polis, D-Colorado, argued against Lamborn's proposal, saying that Coloradans oppose oil shale leases since they would hurt the state's agriculture and recreation economy by depleting limited water resources and allowing oil companies to lock away more public land at fire-sale prices. The last time oil shale production went bust in Colorado, $85 million in annual payroll disappeared in Garfield and Mesa counties over two years, DeGette told her colleagues.
"Shell Corporation estimates it could be 2020 before a company could be ready to develop a federal oil shale lease," DeGette said. "We need real solutions for funding our nation's crumbling transportation infrastructure. Using H.R. 3408 as a funding source for the surface transportation reauthorization is not a good faith effort to create the jobs Americans so desperately need."
Polis introduced an amendment to strike the oil shale legislation from the highway bill. It failed.
Indeed, it was a good week in Congress for fossil fuels and a bad one for renewable energy.
An extension of the wind production tax credit was initially folded into an earlier version of a plan to extend the nation's payroll-tax cut and unemployment insurance bill. But when a deal was reached Thursday, the wind production tax credit was left out. All of Colorado's congressional delegation except Lamborn support the extension of the wind tax credit, which debuted in 1992.
The credit could still be tied to other bills or come as stand-alone legislation. It has lapsed in the past.

"Colorado will suffer tremendous economic dislocation if the wind production tax credit is not renewed on a timely basis this year because our state has become a hub for wind industry manufacturing," said Craig Cox, executive director of Interwest Energy Alliance. "Colorado is the nation's eighth-largest generator of wind power and hosts the world's leading national laboratory in wind and other renewable energy technologies. ... If Congress fails to renew the production tax credit on a timely basis, many of Colorado's 5,000-plus wind industry jobs are at risk, along with tens of thousands of jobs nationally. We have developed a truly American industry in the past five years, with over 60 percent of a typical wind turbine's components manufactured right here in the United States. Failing to renew the production tax credit puts these jobs, and America's international competitiveness, at risk."
Developers can still qualify for the credit if their projects generate electricity by the end of the year. But without federal subsidies in 2013, wind proponents say many projects could be stalled or abandoned.
---

19 Comments on "GOP-controlled House picks unproven oil shale production over thriving wind-energy sector"