Vonn 8th in Andora as Shiffrin scores first World Cup GS points
Vail's Lindsey Vonn took eighth in another wind-plagued giant slalom in Andora today, losing a little ground to her nearest pursuers in the overall World Cup hunt as Slovenia's Tina Maze finished second and Germany's Maria Hoefl-Riesch finished third. Tessa Worley of France won the race.
"It's not at all what I had in mind when I came here," Vonn said of cracking the top 10 in the GS but failing to finish in Saturday's slalom. "I was looking for podiums and the first giant slalom [Friday] was canceled, I skied out oft the slalom and finished eighth here. It's an obvious disappointment.
"Unfortunately, I made a really big mistake right in the middle of the course going onto the flat [in today's GS] and lost a lot of time."
Eagle-Vail's Mikaela Shiffrin was 26th for her first ever World Cup GS points. Shiffrin was 10th in Saturday's slalom.
"All year I've been so frustrated with giant slalom because I get down and I don't feel like I've skied very well and then to top it off I don't get a second run to try and make it better," said Shiffrin, a 16-year-old U.S. Ski Team rookie and Burke Mountain Academy student.
"So finally I got the second run and I couldn't be more excited," she added. "This entire experience in Andorra has been great. I hope we get to come back here."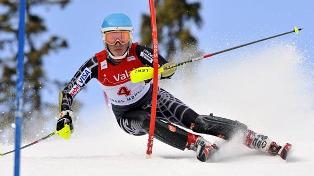 Now the women's circuit shifts to Sochi, Russia for 2014 Olympic speed-event tests in downhill and super-combined – both disciplines that Vonn currently leads. The Ski and Snowboard Club Vail athlete still leads the chase for her fourth overall title by 410 points over Maze and 494 over defending overall champion Hoefl-Riesch.

"I'm really excited to go to Sochi," Vonn said. "It's the first chance we're going to have to look at the Olympic course. I've heard a lot of things about it, but I've never seen it.

"It will be my first trip to Russia, so I'm really looking forward to getting a good look at the course and hopefully putting down a few good runs on it so I can prepare myself for the Olympics."

The men's circuit finished up today at Rosa Khutor, the ski resort that will host all the alpine events for the Sochi Winter Olympics in 2014.
Bode Miller once again finished fourth in a downhill there after just missing the podium on Saturday. But today the downhill was just one part of the combined event, and the American great couldn't finish the slalom.
Croatian Ivica Kostelic won to secure the season-long World Cup super combined title. Switzerland's Beat Fuez, who won Saturday's downhill, was second to move within 70 points of Kostelic in the overall chase.
Ted Ligety, of Park City, Utah – the combined Olympic gold medalist in 2006 -- also skied out in the slalom.
The men's tour now moves to Bansko, Bulgaria, for a giant slalom and slalom.
---

554 Comments on "Vonn 8th in Andora as Shiffrin scores first World Cup GS points"