Miller just misses downhill podium in test event for 2014 Olympics in Russia
By two-hundredths of a second, five-time Olympic medalist Bode Miller just missed the podium today in the inaugural downhill on the course that will be used for the 2014 Winter Olympics in Sochi, Russia.
Switzerland's Beat Feuz won the race on his 25th birthday with a time of 2 minutes, 14.10 seconds, followed by Canadian upstart Benjamin Thomsen in second (2:14.37), France's Andrien Theaux in third (2:14.69) and Miller in fourth (2:14.71).
Miller, the American superstar, continued his criticism of the course set, saying it was more appropriate for a super-G than a downhill. But overall he praised the course, the terrain and the mountain that will be showcased during the 2014 Games.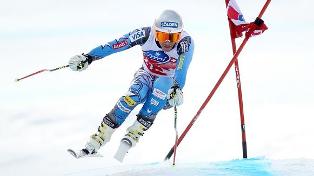 "The athletes will ski whatever," Miller said. "The Olympic downhill has to be the real thing and especially when you have such a great venue as this, it would be awesome to showcase it, but this is way too turny for a downhill.
"It is tough when they've never run a race before, but I'm sure they're learning as much as we are and I'm sure they'll figure out how to use this terrain and make something special."
Russian President Dmitry Medvedev was in the crowd watching the test event World Cup race, and the eyes of the ski-racing world were on event organizers and competitors.
"A downhill should be a challenge, it should be dangerous and it should have risk," Miller continued. "Part of that comes from carrying speed off of terrain and into big turns. If it doesn't challenge athletes, then you won't ever see their best. The Olympics and World Cup deserves to provide an opportunity for athletes to show their best. It's got to be tough."
Thomsen turned in his best career result on the course, which he said was gnarly and icy.
"It's a little bit overwhelming right now. It's awesome," Thomsen said. "When I crossed the finish line nobody raised their hands so I thought, 'Oh no, I must have had a bad run.' But then I saw my name come up. I'm still in shock."
Thomsen is quickly building a reputation for thriving on difficult courses.
"It was really icy at the top. Some of the iciest conditions I've seen," Thomsen said. "You could grab your hockey skates and go right down with the puck."
---

2 Comments on "Miller just misses downhill podium in test event for 2014 Olympics in Russia"