Mancuso claims win in treacherous Garmisch super-G as Vonn fails to finish
Three-time Olympic medalist Julia Mancuso hung on for a gutsy victory on an icy, bumpy super-G course in Garmisch that knocked out 14 racers, including Vail's Lindsey Vonn.
It was the sixth World Cup victory of Mancuso's storied career and her first win this season. Austria's Anna Fenninger was second, and Tina Weirather, of Liechtenstein, was third.
Vonn, who was gunning for her 51st World Cup win and an all-time women's record 18th super-G victory, will have to wait on both counts. However, her nearest pursuer in the overall hunt, Tina Maze of Slovenia, also failed to finish today's race.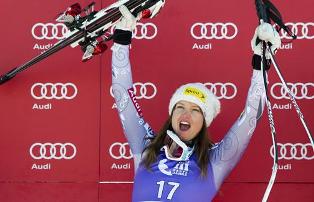 Germany's Maria Hoefl-Riesch was fourth, edging a little closer to Maze in her quest to defend the overall title she claimed from Vonn last season. Vonn still leads this season's chase 1,350 points to 868 for Maze and 796 for Hoefl-Riesch.
Vonn, who won her American record 50th World Cup race on Saturday, claiming the downhill, was held in the start for four minutes prior to her run as workers repaired the course. Every other American besides Mancuso failed to finish the rugged super-G track.
"It was very difficult; I really couldn't see much," said Mancuso, of Squaw Valley, Calif. "But that was what you had to do --you had to go for it. I knew that I kept my speed the whole way despite a couple of mistakes. I stayed in there. It was a rough ride, but I managed to make it to the finish."
Mancuso and Vonn last combined for a weekend sweep of World Cup wins on Dec. 19-20, 2006 in Cortina d'Ampezzo, Italy.
"Lindsey was on a good track and maybe we could have had one and two, but she caught a little bit of an edge and couldn't finish," said women's head coach Alex Hoedlmoser. "And the other athletes were hammering too, but to win, you just need one in the finish."
The women's World Cup now moves to Soldeu, Andorra, for a giant slalom and a slalom.
---

5 Comments on "Mancuso claims win in treacherous Garmisch super-G as Vonn fails to finish"