Most of Vail now open as more snow heads toward Colorado
Those gusts of wind blowing out of Colorado's high country these days aren't just the leading edge of yet another winter storm set to dump still more snow on the state's ski resorts. They're also the collective exhaling of relief from a snow sports industry that's seen its season saved in the last few weeks.
A record December snow drought had ski execs panicking from Lake Tahoe to Utah's Wasatch Mountains to the central and northern Rockies of Colorado. Oh, what a difference a few weeks and a dramatic shift in the jet stream can make.
A little over a week ago, grass was still the predominant landscape feature in Vail's Back Bowls. Close to three feet of new snow over that time span has allowed resort operators to open the vast majority of Vail Mountain.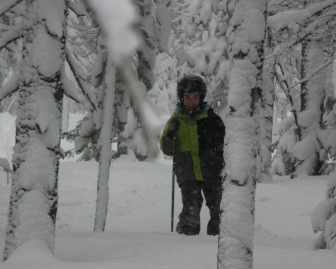 After an 11-inch blast of new snow on Friday, Vail officials posted this on the Vail Mountain
Facebook
page: "Thanks for sharing a big day in Vail! Great snow and great guests! For tomorrow we're pleased to expand open to terrain: everything in Sun Up/Sun Down except Chicken Yard, everything in Blue Sky except 1/2 of Lover's Leap, 1/2 of of Steep and Deep, and Scree Field, and no lifts 22 or 24. 4400+ acres of skiable terrain. Welcome to Vail!"
To be precise, Vail now has 4,437 of 5,289 skiable acres open, 184 or 193 trails open, and 27 of 31 lifts operating. Season snowfall to date is now up to a respectable 138 inches, producing a settled 35-inch mid-mountain base.
Given how far behind on snowfall the Vail Valley had been up until about the second week of January, things have improved significantly. Still, snowpack totals in the Colorado River basin are about 70 percent of the annual average at this time of the year.
That 138-inch total is nice, but Vail still needs another 200 inches this season just to reach the annual average of 350. That can still happen given that February, March and April can be three of the snowiest months of the year.
A prolonged dry spell could put Colorado's high country right back into the drought doldrums, but for the time being it looks as if the great atmospheric snow machine in the sky will continue to churn out at least a decent number of flakes in the coming week.
Starting tonight,
Opensnow.com
predicts a few inches of fresh snow for the Vail Valley through Tuesday night. Wednesday looks like a dry day, but then more snow should be headed our way Wednesday through Friday.
The Colorado Avalanche Information Center (CAIC) is still warning that backcountry snow riding should be done with extreme caution. Avalanche danger is rated at "considerable" in the Vail and Summit County region.
"The special advisory statement has expired,"
CAIC officials wrote
today. "Not because the snowpack is improving rapidly. Changes in the snowpack are slight, and triggering large, dangerous avalanches remains likely on many slopes. These avalanches can be triggered remotely from low angle terrain well below starting zones.
"We use special advisories to highlight unusually dangerous conditions. With fewer people in the backcountry during the week, there are fewer potential triggers and fewer people potentially impacted by our dangerous snowpack."
---

4 Comments on "Most of Vail now open as more snow heads toward Colorado"