Vonn nabs super-combined win in St. Moritz, builds overall lead
Vail's Lindsey Vonn won her seventh World Cup race this season -- a super combined in St. Moritz, Switzerland -- pushing her front-running overall point total to 1,070.
Vonn's nearest pursuer in the hunt for her American record fourth overall title, Tina Maze of Slovenia, finished second today. Vonn now leads Maze by 302 points.
The win was the 48th career win for Vonn, who stands alone in the third on the all-time women's victory list. She has won a race in four of the five disciplines this season (including a super G at Beaver Creek), and needs only a slalom win to complete the set this season.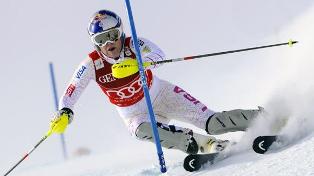 Super combined takes the combined time from one run of downhill and one run of slalom. Vonn led the race after the downhill portion and skied well enough in the slalom for the win.
"St. Moritz is a great hill for super combined," Vonn said. "I felt like I had a really good downhill run, but I was a little bit nervous. I didn't think I had enough time ahead of the slalom girls, but I put together a solid slalom run to hang onto the lead."
Vonn was coming of a season-best seventh-place finish in a slalom in Kranjska Gora, Slovenia, last weekend.
"I'm more confident this year in slalom," Vonn said. "My equipment is working really well and I feel more sure of myself. A lot of times if I don't have a lot of training in slalom, I lack confidence and you can see it in my body language when I'm skiing. But today I knew what I had to do. I knew where I had to be smart and use good tactics on the pitch and then let it go on the flats."
Vonn's U.S. teammates also scored points in today's race, with Julia Mancuso (Squaw Valley, Calif.) 13th, Leanne Smith (North Conway, N.H.) 18th, and Laurenne Ross (Bend, Ore.) 20th.
"Everyone is skiing so well right now," Vonn said. "We all have so much confidence. Leanne has been really fast in a lot of races and today she put it through the finish in the downhill without any mistakes.
"She knows she can do it and the same goes for Laurenne and Stacey [Cook]. Julia has had a lot of success in her career and she knows what to do. We all are excited about the way we are skiing and I think we're all really excited for tomorrow's race.
A downhill is slated for Saturday with a second super combined on Sunday in St. Moritz.
A big group of American fans cheered the U.S. Ski Team in the finish stadium today.

"There's a really solid American contingency here," Vonn said. "We actually had some banners in the finish and a big American flag. It was cool to see the American support."
---

788 Comments on "Vonn nabs super-combined win in St. Moritz, builds overall lead"