Colorado ski resorts piling on upgrades for 2010-11 season
There's a lot to look forward to this ski season both at home and across the state.
As they do every year, snow resorts are upping the ante with new terrain, technology and other tantalizing winter attractions as they vie for customer loyalty and your hard-earned dollars.
So out with the old 1978 fixed-grip Exhibition triple chair at Arapahoe Basin and in with the new Black Mountain Express, which will cut in half the time it will take to get from the base area to mid-mountain. There are a ton of things in motion down in Durango, including tons of dirt that is getting pushed into terrain park features for the upcoming season. Carving pipes out of the earth and building hits with mounds of soil instead of snow will allow the ski area to open earlier and last longer, officials at Durango Mountain Resort reason. In Vail, the replacement of the creaky
High Noon lift, aka Chair 5
, with new high-speed access to Vail's revered Sun Down Bowl is right on schedule.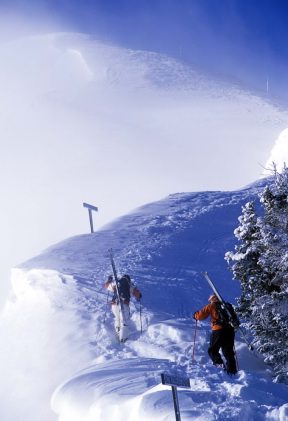 Visitors to Vail Resorts' portfolio of ski areas (Vail, Beaver Creek, Breckenridge, Keystone, and Heavenly, Calif.,) can also have the number of runs and days they've skied
automatically tracked for them
. Radio-frequency scanners on 89 Vail Resorts' lifts will track skiers and riders through chips embedded on lift tickets and passes. The data is available online and through a phone application. Vail Resorts can even communicate the information on social media sites like Facebook and Twitter automatically so, for example, skiers and riders can see which one of their friends or family members are on the mountain at any particular time. The chip can also be disabled for those concerned about their privacy.
Here's what's happening elsewhere in Colorado
:
Arapahoe Basin
— Climbing 719 vertical feet, the new Black Mountain Express will be able to propel 2,000 skiers from the base to mid-mountain every hour. The ride will take under 3 minutes.
Aspen/Snowmass
: The Aspen Skiing Company is unveiling a new 12-foot halfpipe at Snowmass targeted at fledgling jibbers and curious skiers and 'boarders who want to test their skills. The pipe will be placed down by Lowdown Park. Counting the world-famous Olympic-sized superpipe at Buttermilk (voted best pipe by readers of Transworld Snowboarding Magazine) and existing 18-foot halfpipe in Snowmass, Aspen/Snowmass will now be one of the world's few ski resorts will three pipes. In all, the Aspen Skiing Company says it's invested more than $138 million in on-mountain improvements over the last seven years, including new lifts, gondolas, terrain and services. Also new this season will be free guided tours of Highland Bowl. The ambassadors at Aspen Highlands will for the first time take guests into the snowy Shangri-La that boasts 2,000 vertical feet of backcountry-style skiing accessed by a 30 to 45-minute hike and options snowcat ride. The tours run at 11 a.m. on Wednesdays, weather and conditions permitting, for confident double-black skiers only.
Copper Mountain
— Capital improvements to the tune of $6 million include increasing snowmaking by 25 percent, adding free parking by as much as 40 percent, improving the arrival at Union Creek and adding other infrastructure enhancements that will enable future renovations and additions. Operators also bought a 22-foot -pipe-cutting Zaug that should provide the resort with a season-long superpipe. Copper also recently installed Woodward at Cooper, which it touts as "the first indoor/outdoor ski and snowboard camp on the planet" complete with foam pits, Snowflex jumps, trampolines and features.
Crested Butte
— To help celebrate 50 years of skiing at this resort, Crested Butte is popping the cork on 15.3 acres of new intermediate terrain on the main mountain. Crews are also thinning trees in Horshoe Springs to open up the area and make the terrain more accessible to upper intermediates. Better snowmaking is also a priority, thanks to a $40,000 National Ski Areas Association grant used to buy 10 new high-efficiency tower snow guns. The machinery is expected to result in earlier terrain openings. Also new this year: terrain park features on Cascade trail and a NASTAR race arena on Canaan trail.
Durango Mountain Resort
: In addition to its innovative terrain park built from dirt instead of snow, this resort is continuing its terrain expansion with new glades called "The Ambassadors Glade," named after resort owners Chuck and Sue Cobb, who served as U.S. ambassadors to Iceland and Jamaica, respectively. Last season, Durango added 30 percent more expert terrain with its Legends expansion. It is also improving its snowmaking and learning center.
Eldora
— A new magic carpet has been added to assist first-time skiers up the mountain. The conveyor lift will replace the Tenderfoot I and Tenderfoot II. Two new snowcats will also improve grooming. Improved glade skiing and boarding is also a priority: more tree removal is on tap for expert terrain.
Monarch Mountain
— This ski area is spending $1.2 million in improvements that include a new base terminal for the Garfield Chairlift, the Pioneer quad chair will see a new unloading ramp. There is also a new yurt for the junior mountain program and a remodeled children's ski center for tikes. Monarch is also updating its terrain parks with features made from felled trees in the area.
Powderhorn
— Terrain Park Manager Joe Pope is building features for a new natural terrain park to open this season for beginner and advanced skiers and riders. Pope, who designed the unique terrain park at Sleeping Giant ski area in Wyoming, is also building the features from locally chopped trees.
Silverton Mountain
— This high-alpine natural ski area is increasing its lift capacity this season. The mountain still only has one lift, but its upping the number of chairs on the line from 59 to 89. "There are only lift lines a few times each year at Silverton, but that is too much," as a Colorado Ski Country USA press release put it.
Steamboat
— This resort is touting a new slopeside restaurant, the Burgess Creek Terrace and Umbrella Bar on the Bear River Bar & Grill Deck. It includes a fully heated outdoor patio and a centrally located fire pit. Snowmaking will also be pumped up by 27 percent this season with the help of stronger snowmaking technology. Also, 30 new and refurbished rails and features — large and small — are expected in Steamboat's terrain parks.
Telluride
— Late last season the resort introduced a guided backcountry skiing program for nearby Bear Creek and Alta Lakes. It will continue this season. Also last spring, Telluride made its hike-to terrain easier to access compliments of helicopters that dropped off new bridges and steel staircases to Palmyra Peak and Gold Hill.
Winter Park
— A new village, two new snowcats, new mountain web cameras, IT upgrades, improved parking and enhanced dining options will welcome skiers and riders at this Front Range-frequented resort this winter.
Wolf Creek
— The main lodge has a new kitchen and carpeting. Plus, new water-free composting restrooms.
---

1043 Comments on "Colorado ski resorts piling on upgrades for 2010-11 season"