Vail's Sarah Schleper goes out in style
Ski and Snowboard Club Vail standout finishes final slalom carrying son Lasse
Vail's Sarah Schleper kicked out of the starting gate for the final time in her storied World Cup ski-racing career today in Lienz, Austria. She never had any intention of qualifying for a second run; instead stopping to carry her young son, Lasse, across the finish line.
Schleper, 32, made four U.S. Olympic teams, spent 15 seasons on the World Cup circuit and raced in 186 World Cup races, winning one in 2005. Her legacy will be here consistency over such a long span of time, her persistence in returning to action after injuries and childbirth, and an outsized personality that inspired her teammates and American racing fans in general.
It's fitting that in the same race where Schleper called it quits, a fellow Ski and Snowboard Club Vail (SSCV) racer half her age, Mikaela Shiffrin, of Eagle-Vail, climbed on a World Cup podium for the first time at age 16. Shiffrin
cited Schleper
as a source of inspiration.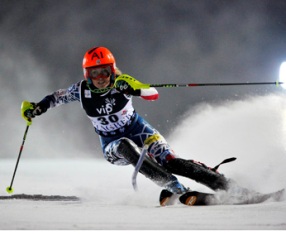 Schleper debuted on the World Cup circuit at the same age of 16, racing on home snow in Vail in 1995. She climbed on four podiums during her long, successful career, including that one win in a slalom in Lenzerheide, Switzerland, in 2005. Her best Olympic result was a 10th in the slalom at the 2006 Winter Olympics in Torino, Italy.
Real Vail was there for that result and also watched at Schleper came of age by battling injuries, putting her party girl past behind her, settling down and starting a family. Posted below, in its entirety is a profile on Schleper that first ran in the Rocky Mountain News in Denver and then was
posted on Real Vail
on Dec. 3, 2008.
First, though, go to
universalsports.com
for video of how Schleper went out in style in her final slalom. And here's a vivid description of today's final run for Schleper, provided by Doug Haney of the U.S. Ski Team:
"She wore a grey dress, a GoPro and a blue Shred helmet donned with flowers. Wild blond curls danced beneath it. Her signature ROAR out of the start was echoed in the finish stadium and across the world.
"After smashing gates with true passion, she stopped midway and picked up her three-year-old son Lasse from Head Coach Alex Hoedlmoser and then continued to run the final gates with him in her arms. She gave an extra punch to the last one.
"She crossed the line. She won in more ways that can be written. Her husband Federico, Lindsey [Vonn], Julia [Mancuso], Patrick Riml, the World Cup family who loves her so much was there with hugs, flowers and a video tribute on the big screen.
"Sarah was 16 when she made her World Cup debut in her hometown of Vail – a town that's supported her and ski racing like only a true ski town can. They have Sarah's passion and will be there with open arms to welcome her home."
"Sarah is and always will be an inspiration."
Haney went on to provide these highlights of Schleper's career:
* 15 seasons of World Cup racing, first was Nov. 11, 1995 in her hometown of Vail
* Four-time Olympian (1998, 2002, 2006, 2010)
* Member of five World Championship Teams (2001, 2003, 2005, 2009, 2011)
* 186 career World Cup starts, including today's
* Four World Cup podiums and one win (March 12, 2005 slalom in Lenzerheide, Switzerland)
* Missed 2007 season for the birth of her son Lasse (born Jan. 30, 2008)
* Six-time U.S. Champion
* Amazing human
And here's the Real Vail profile on Schleper
back in 2008
:
After two years off for injuries and motherhood, Vail's Sarah Schleper returns to World Cup
VAIL, Colo. (Dec. 3, 2008) -- Even though it has been two long years, several surgeries and one new baby in the making, don't call Sarah Schleper's return to the U.S. Ski Team a comeback.
"I've never given up ski racing, not one day, since I hurt my knee, hurt my back, since I had (son) Lasse," said Schleper, a Vail native who's the only woman on the American team born in the 1970s. "The whole time, even while I was pregnant, I was still kind of training and keeping athletic and running just to keep up with it."
A three-time Olympian who turns 30 during the current World Cup season in February, Schleper had knee surgery one week after giving birth to Lasse in January so her recovery from both could occur simultaneously and she could get back to training as soon as possible.
That level of intensity is paying off for the former party girl with the long, curly blond hair who grew up in her dad's ski shop in Vail. Now married to Federico Gaxiola, whose family owns a home in Vail, Schleper clearly is more focused and able to enjoy her final hurrah in the sport she loves.
"It's taken a whole load off of my shoulders, it feels like," Schleper said of marriage and starting a family. "I just go out there and have fun, and if I don't win the race or I'm not in the race, I still have my family and everything's still golden."
Schleper finished 13th in a GS Nov. 29 in Aspen – her best result of the 2008-09 season.
Free spirit
Schleper isn't taking her final shot at Olympic glory for granted. At three previous games, her best result was 10th place in the slalom at the 2006 Turin Winter Olympics.
That finish was gratifying to her because it came after two back surgeries that nearly derailed her career. But soon after that, she blew out her knee during a World Cup race and missed the entire 2006-07 season. Then she got pregnant and missed all of 2007-08.
Schleper returned to the U.S. squad on the B Team, bringing her free spirit and energy back to a squad that has had plenty of success in her absence.
Lindsey Vonn, another Ski Club Vail product, is the defending overall World Cup champion, and Schleper remembers her coming up through the ranks and moving to Vail shortly after her own World Cup debut on home snow in Vail in 1995.
She and Federico, of Mexico City, now sometimes hang out with the younger Vonn and her husband, Thomas, a former ski racer, on the circuit in Europe because they're the only other married couples on the American team.
With only one World Cup win (a slalom in 2005) to her credit, Schleper marvels at Vonn's hard work and tenacity in racking up 14 wins, including a recent slalom in Finland.
Schleper said marriage has settled down Vonn and made her more confident, and Schleper is hoping her own young family will have the same effect on her as she takes one last shot at an Olympic medal at Vancouver in 2010.
"That's going to be the climax for us," she said, referring to her family (Lasse and Federico travel with her on the road) as Team Gaxiola. "We want to finish that World Cup season, and then we have plans to continue on with our family and see where our lives are going to go after racing. It's cool to have the ability and the opportunity to go for that fourth (Olympics) and still be in the game."
While their son bears the same name as one of the most decorated ski racers of all time, Norwegian great Lasse Kjus, both parents say it was really just a name they liked and they won't push their son into ski racing.
"We wanted a name that works in both English and Spanish and that tie to the ski world is cool for him, having Sarah as a mom and not even knowing if he will become a racer one day," Gaxiola said.
Lasse and Federico traveled with Schleper during the first month of the World Cup season, staying in hotels across Europe while she tried to maintain her training routine under sometimes difficult circumstances.
"One thing I do find that's kind of cool for us as a family is, even in the economic struggle that everyone's having, we're out here traveling," Schleper said. "It's a lot of hard work, but we're also looking at it like we're getting to see the world and ski in really cool places, and we're also inspiring families to get out there and be active."
Zest for life
One thing Schleper said her father, Buzz, a self-proclaimed ski bum who owns Buzz's Ski Shop and Buzz's Boards in Vail, always instilled in her was the need to work hard for everything but also to have fun and enjoy life.
When in 2000 his daughter made the impetuous decision to ski down the Back Bowls topless with a friend for a photo in the local newspaper (which added strategic black bars), Buzz Schleper and the other girl's father duplicated the photo shoot, skiing shirtless for the April Fool's edition of the same newspaper (with black bars). Sarah Schleper said that's all part of her freewheeling past - but not something she regrets.
"That's another thing Federico has helped me with a lot is I used to be a bit of a party girl, and I don't go out anymore. I just really try to stay focused and drink a lot of water," Schleper said with a laugh. "I don't have any regrets for that photo at all. It was fun, and it was just playing around and it wasn't something to be ashamed of at all."
---

3 Comments on "Vail's Sarah Schleper goes out in style"