Eagle-Vail's Shiffrin third in World Cup slalom as Vail's Schleper retires
Eagle-Vail's Mikaela Shiffrin, 16, stepped onto her first-ever World Cup podium today in a slalom in Lienz, Austria, won by Austria's Marlies Schild. Slovenia's Tina Maze was second, and Ski and Snowboard Club Vail's Shiffrin was third.
"It's been my dream to stand next to Marlies Schild on the podium and I did it," Shiffrin said. "Actually being able to fulfill one of your dreams is a crazy feeling."
Shiffrin figuratively took the baton from her fellow Vail Valley resident and SSCV product Sarah Schleper, who skied in her final World Cup race after 15 years on the circuit.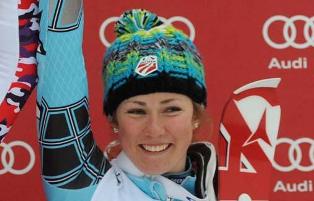 "Sarah told me to go after it and have fun," Shiffrin said. "It was perfect. Something about that makes me very calm because she's been there. I'm so bummed that she's retiring, but she went out with a bang. I'm so proud of her and so proud to have raced next to her."
Schleper purposefully didn't qualify for a second run.
"After smashing gates with true passion, [Schleper] stopped midway and picked up her three-year-old son Lasse from head coach Alex Hoedlmoser and then continued to run the final gates with him in her arms," U.S. Ski Team spokesman Doug Haney said. "She gave an extra punch to the last one."
Shiffrin did qualify for a second run and turned in the best time of the day, although it wasn't enough to catch Schild and Maze from the first run.
"I didn't know that I was the fastest in the second run until someone told me," Shiffrin said. "I truly can't believe it. Now I just have to keep my head on my shoulders and just keep skiing because those two runs today were so much fun and that's what it's all about."
Schild cut into the overall World Cup lead of a third SSCV product, Vail's Lindsey Vonn, who finished 18th today. Schild has won every World Cup slalom this season, and now trails Vonn by 172 points in the overall hunt.
Shiffrin, who become the youngest U.S. champion in history last spring with a slalom victory at the U.S. Alpine Championships, was making just the eighth World Cup start of her career - fifth in slalom. Shiffrin became the youngest female skier to podium in World Cup slalom since Tamara McKinney did it on Dec. 10, 1978.

The last time an American woman stood on a slalom podium was more than two years ago, when Vonn took second in Levi, Finland. Shiffrin became the third youngest American to podium in a World Cup race in any discipline.

The women's World Cup tour returns on Jan. 5 with a slalom in Zagreb, Croatia.
On the men's circuit, Bode Miller was fifth in a downhill in Bormio, Italy, today, moving him into the World Cup downhill lead. He won a downhill earlier this month on Beaver Creek's Birds of Prey course.
Miller attacked the washboard surface of the rugged Stelvio downhill course in Bormio to take fifth behind Vancouver Olympic downhill gold medalist Didier Defago and his teammate Patrick Kueng.
"I take a lot of risks with my skiing, and when I made that mistake on the traverse there was no where else to make up time," Miller said. "I basically had to ski uphill to make the next gate."
---

30 Comments on "Eagle-Vail's Shiffrin third in World Cup slalom as Vail's Schleper retires"