Vonn 8th in Austrian night slalom won by Schild
Shiffrin, Schleper fail to make second run
Vail's Lindsey Vonn scored some valuable World Cup points in a night slalom in Flachau, Austria tonight, finishing 8th as Austrian slalom great Marlies Schild claimed her 30th career victory in the event.
Vonn has had some success in slalom but is a much more dominant speed-event [downhill and super-G] racer. This was Vonn's first finish in three World Cup slalom events so far this season after skipping a slalom in Aspen and skiing out in her second run over the weekend in Courchevel, France.
With her top-10 finish, Vonn will head into the holiday break with a 230-point lead over Schild in the chase for her fourth overall World Cup title. Vonn had won four straight races heading into Courchevel, including a super-G earlier this month at Beaver Creek, and five races so far this season.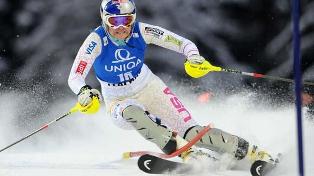 "Slalom is easier now," Vonn said. "I feel really comfortable. I felt like I was skiing really well in the first run from Courchevel before I went out. I know I can be there; it's just a matter of skiing more aggressively."
Vonn was 10th after her first run tonight, more than 1.8 seconds behind Schild.
"I didn't ski as aggressive as I wanted to on the first run, but it was a solid run without any big mistakes," Vonn said. "I was happy to be in there for a second run."
A couple of other Ski and Snowboard Club Vail racers didn't fare as well. Sarah Schleper finished her first run but didn't qualify for a second, and Mikaela Shiffrin didn't finish her first run.
Women's World Cup action resumes Dec. 28-29 with a giant slalom and slalom in Lienz, Austria.
---

8 Comments on "Vonn 8th in Austrian night slalom won by Schild"