Frampton, Will appointed to Denver Exploratory Committee for 2022 Winter Olympics
Colorado now has an official exploratory committee to look into hosting the 2022 Winter Olympics -- including two prominent Vail Valley residents -- but U.S. Olympic officials are still playing hard to get in the midst of an ongoing revenue-sharing dispute with the International Olympic Committee (IOC).
"We are aware Denver is forming an exploratory committee to look at the possibility of a bid for an Olympic Winter Games," said Patrick Sandusky, chief communications officer for the United States Olympic Committee (USOC) in Colorado Springs. "As we have stated to Denver and other interested cities, the USOC is not focused on bids at this time."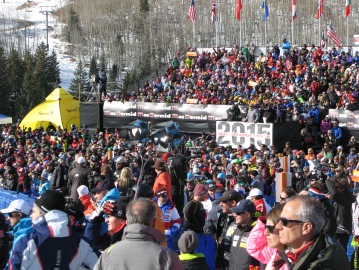 Not exactly a ringing endorsement of the newly formed Denver Exploratory Committee. The two sides are locked in a dispute over slices of the Olympic pie, with the USOC insisting on the traditional 20 percent of global sponsorship revenues and a 12.75 percent share of U.S. broadcast rights. The IOC wants to keep more of that money.
U.S. Sen. Michael Bennet, D-Colo., this fall urged the two sides to come together in a timely fashion so businesses and politicians in Colorado could start selling a Denver bid to the public. A bid would have to be submitted by the end of 2013.
Colorado Gov. John Hickenlooper and Denver Mayor Michael Hancock have been trying to stoke the Olympic fires since this summer, but there are a number of environmental and economic concerns that would have to be worked through. Denver is the only city to have been awarded the Winter Olympics (for 1976) and then rejected them because of voter fears about tax debt and impacts from growth.
In a joint release Friday, Hickenlooper and Hancock said that in the coming weeks the new Denver Exploratory Committee "will examine the financial issues, the feasibility and the economic impact of a potential bid and answer questions about such things as protocol, timing, venue requirements and process."
Harry Frampton, chairman of the Vail Valley Foundation and a key player in landing three World Alpine Ski Championships for Vail and Beaver Creek, has been named to the committee. Frampton also played a critical role in the development of Beaver Creek, which was originally conceived as a venue for the 1976 Denver Winter Olympics.
The committee also includes Sarah Will, a 13-time Paralympic ski-racing medalist and local advocate on access issues for the disabled.
The committee will then report back to Hickenlooper and Hancock.
"The opportunity to pursue the Games is an endeavor worth taking very seriously," Hickenlooper said in the release. "We've asked this exploratory committee to explore all issues relevant to Denver potentially submitting a bid to the USOC. Those issues include making certain any bid would be financially sound and will help economic growth in the state. We would also want to find ways to showcase Colorado as the healthiest state in the nation for work and play no matter of a bid's outcome."
Hancock echoed those sentiments, including the health angle – perhaps owing in part to the two co-chairs of the committee, Don Elliman, executive director of the Charles C. Gates Center for Regenerative Medicine & Stem Cell Biology at the University of Colorado Medical School, and Anne Warhover, CEO of the Colorado Health Foundation.
"The USOC is working diligently with the International Olympic Committee on a number of important topics, and we do not intend to get in the way of the immense work that both organizations have done to date," Elliman said. "Our intent is to form a clear leadership group from the state and city to evaluate if the Olympic Winter Games is a good fit for Denver and Colorado."
If the USOC does decide to pursue a 2022 bid – something that became much more likely after the organization dropped out of the running for the 2020 Summer Games -- Denver faces stiff opposition from the Lake Tahoe area on the border of Nevada and California. Colorado companies have been engaged in a ski resort arms race in the region and local leaders there have been ratcheting up the 2022 rhetoric.
Here are all the Denver Exploratory Committee members:
• Ernie Blake, former Mayor of Breckenridge
• Jeremy Bloom, Olympian
• Kelly Brough, CEO, Denver Metro Chamber of Commerce
• KieAnn Brownell
• Cedric Buchanon, City President, BBVA Compass
• Mario Carrera, VP for Colorado Markets, Entravision Communications
• Rob Cohen, CEO, IMA Financial Group
• Tami Door, CEO, Downtown Denver Partnership
• Steve Farber, Shareholder, Brownstein Hyatt Farber Schreck
• Cole Finegan, Partner, Hogan Lovells
• Harry Frampton, Chairman, Vail Valley Foundation
• LaCharles Keesee, Senior Advisor to the Mayor, Office of Mayor Michael Hancock
• Ken Lund, Executive Director, Colorado Office of Economic Development and International Trade
• Steve McConahey, Chairman, SGM Capital
• Chris Osborn, Chairman of the Board, Poudre Valley Health System
• Christine Riordan, Dean, Daniels College of Business, University of Denver
• Richard Scharf, CEO, Visit Denver
• Hon. Elbra Wedgeworth, Chief Government and Community Relations Officer, Denver Health
• Sarah Will, Paralympian
• Richard Young, Partner, Holme Roberts & Owen

---

6 Comments on "Frampton, Will appointed to Denver Exploratory Committee for 2022 Winter Olympics"