Beaver Creek opens Larkspur Bowl, Arrowhead
Wind, snow cancels World Cup races in Europe
Remember how just a couple of weeks ago there was zero snow in France, shifting several World Cup ski races from Val d'Isere to Beaver Creek? Well, the snow came in a big way – so much so that a women's slalom scheduled today for Courchevel was postponed to Sunday.
Meanwhile, not a lot of new snow has fallen here in the Vail Valley of late, but Beaver Creek – the beneficiary of all those extra World Cup races earlier this month – did still manage to open Larkspur Bowl and Arrowhead, with snow riders finding a few freshies in the process (see photo).
Beaver Creek now has 1,058 skiable acres, and Vail is boasting more than 1,400 acres. True, the Vail Valley has not been blessed with the record abundance of snow we had this time last season, but we've had enough snow and cold enough temperatures (perfect for snowmaking) to allow hard-working mountain ops crews to open quite a bit of terrain.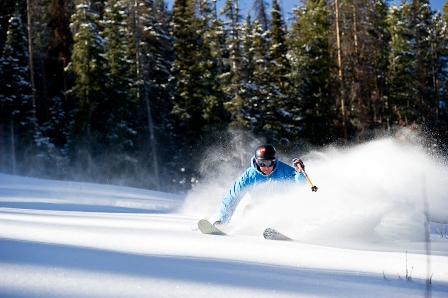 Forecasters are watching a minor southern storm that may clip the northern-central mountains of Colorado with an inch or so of new snow on Monday, but the next real chance for significant snow doesn't head our way until the end of next week. Long-range forecasts call for a shift in the predominant storm track – one that may be more favorable for our part of Colorado – at the beginning of next year.
In Europe, Vail's Lindsey Vonn will have to wait till Sunday to see if she can extend her five-race winning streak. Slalom is not her best event, but it's even trickier in the soft snow pounding France these days.
In Italy, American Bode Miller, second in a super-G in Val Gardena on Friday, had his shot at the Saslong Classic men's downhill scrubbed by high winds today. The men's circuit now shifts to Alta Badia for a giant slalom on Sunday – a race American Ted Ligety will be favored to claim.
Miller, Vonn and Ligety all won races in Beaver Creek earlier this month.
Also in Italy, Eagle-Vail's Chris Del Bosco, skiing for the Canadian Ski Team, got into what he described as a "slight tangle" in the quarter-finals of World Cup ski cross race in Innichen/San Candido and didn't make it through to the finals, finishing ninth overall.
His teammates, Brady Leman, of Calgary, and Dave Duncan, of London, Ontario, finished first and third.
---

344 Comments on "Beaver Creek opens Larkspur Bowl, Arrowhead"