Miller second in Val Gardena super-G
Fresh off a downhill win at the Birds of Prey World Cup in Beaver Creek two weeks ago, a resurgent Bode Miller finished second today in a shortened super-G race in Val Gardena, Italy.
Switzerland's Beat Feuz, who also had a strong showing in Beaver Creek, won today's race, and Norway's Kjetil Jansrud was third.
Head coach Sasha Rearick thought Miller was about to build on his American men's record of 33 career World Cup victories.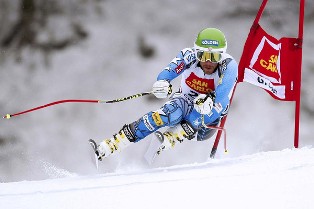 "I thought we had it in the bag for a while; then Feuz out skied us," Rearick said. "But Bode is skiing well and with a lot of confidence. Besides a couple of direct lines in a few spots, it was great skiing by Bode."
Miller acknowledged the errors that may have cost him.
"I made some mistakes on the course and there's not a ton too it," Miller said. "Also, when I went the visibility was pretty bad. If you get a little sun, it can make a huge difference on a course like this. On this particular course you always have to wait until the end because there's guys that can come from the way back and stomp it in."
Vancouver Winter Olympic super-G bronze medalist Andrew Weibrecht was the next best American in 20th.
"This hasn't necessarily been a good hill in the past for Weibrecht, but today he showed some aggressive skiing and I'm proud of his performance," Rearick said.
The famed Saslong Classic downhill is slated for Saturday in Val Gardena.
"The super-G here isn't usually a good indicator for the downhill," Miller said. "There's a lot of variables here -- start position, weather -- everything makes a difference. I think we have the skis that can do it and I have the line that know I need to ski. This is one of my favorite areas in Europe to ski."
---

1 Comment on "Miller second in Val Gardena super-G"