Beaver Creek set to open Rose Bowl, unveil new lift
Vail drops rope on Game Creek Bowl
Now that the World Cup weekend that turned into a week is over, mountain ops crews and ski patrol at Beaver Creek have turned their attention to the rest of the mountain, dropping the rope on Rose Bowl and its new high-speed quad chairlift on Saturday.
Despite the lack of snow all week, six inches fell overnight last Saturday, and it's been so cold that there should still be some fairly light, soft (if not exactly fresh) snow for early risers in Rose Bowl. Ride the new lift after skiing into the bowl at 9 a.m., Saturday, and then participate in a grand opening ceremony at the new top terminal.
Commemorative Rose Bowl lift pins will be handed out to the first 500 people. Rose Bowl will only have intermediate and expert terrain on Ripsaw, Cataract and Stone Creek Meadows trails. Beaver Creek will also open several other trials in other areas of the mountain, bringing its total skiable terrain to 818 acres.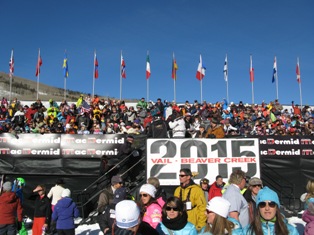 Beaver Creek is opening parts of Bachelor Gulch, and will crank up the Lower and Upper Beaver Creek Mountain Express Lifts (Chairs 15 and 18), along with the Riverfront Gondola (No. 7) on Saturday. Go to www.beavercreek.com for the latest.
Vail opened its first bowl (well, front side bowl anyway) today, with parts of Game Creek Bowl being served by Chair 7. Vail now has more than 1,000 skiable acres open. Got to www.vail.com for updates.
Anyone coming up for the free Vail Snow Daze concerts this weekend should not expect any truly fresh snow. Forecasters say the next real shot for any significant snow in the northern-central Rockies of Colorado won't be until Wednesday, Dec. 14. So enjoy the groomers for the next few days.
---

0 Comments on "Beaver Creek set to open Rose Bowl, unveil new lift"
Be the first to comment below.