Mancuso, Vonn rivalry revived on home snow at Beaver Creek
Both U.S. Ski Team standouts badly want to win in front of American fans
Julia Mancuso is a big-event ski racer. She has more Olympic and World Championship medals (7) than she has regular-season World Cup wins (5).
But Wednesday's first-ever women's World Cup super-G on the Birds of Prey Course at Beaver Creek – and the first women's ski racing action at all in the Vail Valley since the 1999 World Championships – feels a lot like a big event.
"It's a big deal just to be racing on the hill," Mancuso said of the rescheduled makeup for a race cancelled in Val d'Isere, France, due to a lack of snow. "So it always has a lot to do with [course] set, and they like to be safe, but I think we can all handle it and it will be a really fun race."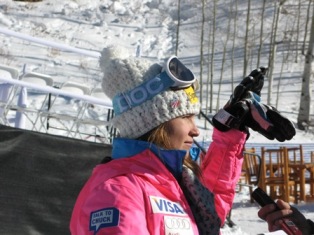 Men have raced on the daunting Birds of Prey course since 1997, including a downhill and a giant slalom won by Bode Miller and Ted Ligety in the last five days, but the last time women raced in Vail at the World Cup level was in 1999 on the much tamer International (now Lindsey's) run at Vail.
That's "Lindsey" as in Lindsey Vonn, the former Ski and Snowboard Club Vail racer who has nine times as many regular-season World Cup wins as Mancuso but one less Olympic medal. Vonn comes home to Vail on a three-race winning streak after sweeping the weekend in Lake Louise, Alberta. She's hunting for her fifth win this season – as many as Mancuso has in her career.
But Mancuso was third in the Lake Louise super-G that Vonn won on Sunday, and she was also third in a GS in Aspen the weekend before. That's the only race so far this young season that Vonn has competed in and not won. It took a huge rally in the second run for Vonn just to wind up 12th. Overall, Vonn has won four of the five events she's raced in so far this season.
Mancuso, however, likes her chances on the more technical super-G course at Beaver Creek.
"I'm skiing really technically well, so after my good super-G result [in Lake Louise] and GS [in Aspen] I think this is going to be a combination and a really technical super-G, so I'm skiing well and excited," she said. And even though her first career World Cup win came nearly five years ago at Val d'Isere, Mancuso doesn't sound too bummed to be staying in the States an extra week and not traveling to France.
"It is nice. My mom lives here in Vail, so I'm excited to just be able to spend some more time with her and relax and enjoy it. It's really nice to be home, and just having the energy of everyone out here cheering us on."
Vonn is clearly locked in despite the announcement after the Aspen races that her husband of four years, Thomas Vonn, has filed for divorce. She's also looking forward to being close to home and competing for the first time at the World Cup level in the Vail Valley.
"It's going to be such an awesome race to finally be able to race at home, five minutes from where I live and to have the support of my friends and family there," Vonn said after Sunday's win in Lake Louise. "Hopefully I can take this momentum with me to Beaver Creek and finally get a win in my hometown."
Vonn and Mancuso have been competing head to head since they were 12, and during last year's Olympics in Whistler they
famously feuded
in the media, although both would later downplay the rift.
Mancuso claimed a silver medal in the Olympic downhill that Vonn won in Whistler. But in 2006 in Italy it was Mancuso walking away with a surprise gold in the GS while Vonn (then Kildow) left empty handed after a horrific training crash.
The women's super-G starts at 10:30 a.m. The races are free and open to the public either on skis or by a free shuttle out of Beaver Creek Village. Go to
www.bcworldcup.com
for more information.
---

2 Comments on "Mancuso, Vonn rivalry revived on home snow at Beaver Creek"